Mercosur founding members share same economic model and are targeting trade accords, says ECLAC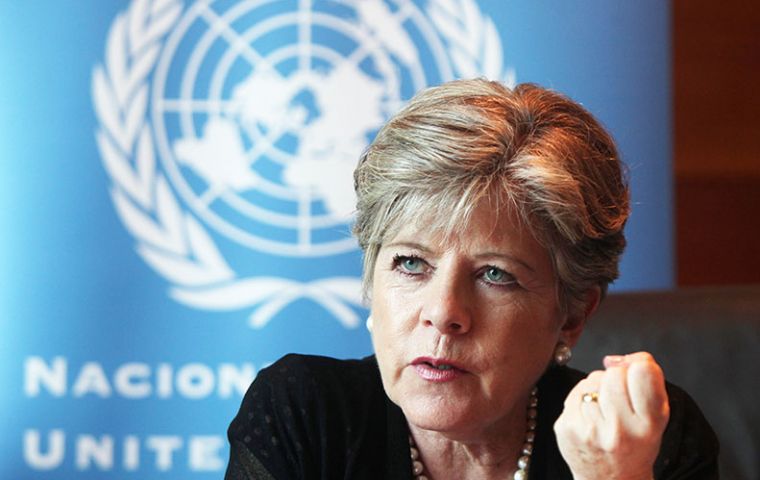 Tensions inside Mercosur can be attributed to the fact that Argentina, Brazil, Paraguay and Uruguay share a development "economic model" which distances them from Venezuela, and are prepared to advance in trade negotiations with the European Union, and even with the Pacific Alliance. Venezuela on the other hand has as its main priority putting the deteriorated economy back on the growth track, according to the UN regional economic commission ECLAC, chair Alicia Barcena.
"What is happening is that Uruguay, Paraguay, Brazil and Argentina have found an economic model which they share. It is consistent with what they implement at domestic level and makes them a block more interested in establishing closer trade and investment links with the EU and/or the Pacific Alliance, than with Venezuela or the ALBA space (Bolivarian Alternative for the Peoples of the Americas)" argued Ms Barcena.
Tensions in Mercosur surfaced strongly during September and October when the presidents of Argentina, Mauricio Macri and Brazil, Michel Temer reiterated that Venezuela must comply with certain legal and political requisites before its definitive integration to the block is confirmed. Likewise on 13 September the four founding members, Argentina, Brazil, Paraguay and Uruguay agreed that Venezuela, accepted into the group in 2012 as full member could not exercise the chair of the group since it had not ratified and incorporated all the accords reached by Mercosur.
Venezuela then described Macri and Temer's words as "threats and aggression" and accused them of wanting to destroy Mercosur, but Barcena pointed out that Venezuela currently has far more serious problems than its association with the Mercosur block and called on Caracas "to solve those problems of its economy which are most contingent".
"I believe Venezuela has the option and must address it, of retaking growth with productivity. It has great potential and chances of opening productive sectors in agriculture, for example, and it is not doing it. The country has concentrated for too long in oil and is highly dependent", concluded Ms Barcena head of the UN Economic Commission for Latin American and the Caribbean.