Spain asks Latin American countries support for Gibraltar's sovereignty claim
Tuesday, October 18th 2016 - 07:32 UTC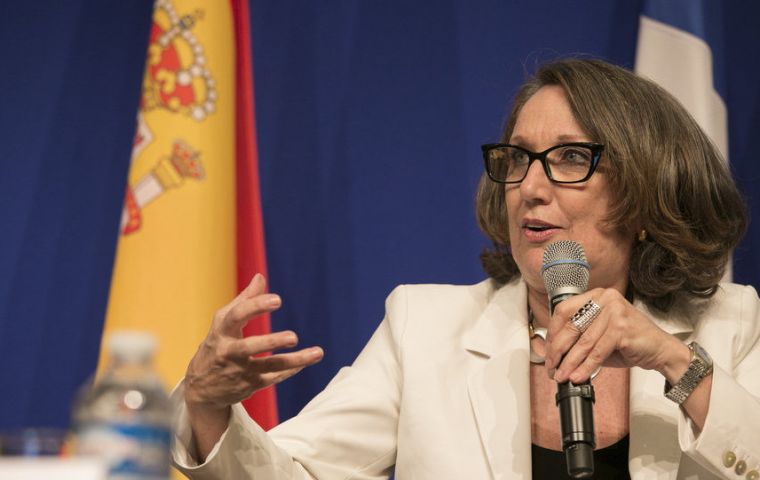 Spain has, for the first time ever, asked the annual Iberian-Latin American Summit for its support on the Gibraltar sovereignty question. It has asked the Colombian Government, as the organizers of the 28/29 October event to circulate the text for the summit to adopt a resolution for the resumption of sovereignty talks over Gibraltar.
"Spain recently presented to the Ibero-American members a statement on Gibraltar", confirmed the chair of the organization Rebeca Grynspan who added that the request must be circulated among members either to accept and support it, or ask for some modification of the text. The proposed text has to be approved by consensus.
Every year, participating countries approve a proposal by Argentina calling on the UK to enter into bilateral negotiations over the sovereignty of the Falkland Islands. Last week Spain also wrote a letter to all EU Member States, asking for their support in ensuring Gibraltar is excluded from Brexit negotiations with the UK.
This is the first time since the Ibero-American summits were started back in 1991 that the Spanish government has requested its Latin American associates support for Gibraltar's question
London and Madrid have strained relations over Gibraltar particularly regarding the Rock's waters and fishing rights. There have been repeated incidents of Spanish navy vessels challenging Gibraltar waters, considering them Spanish while London rejects such stance.
It has also become an instrument to press London to hold bilateral negotiations on Gibraltar's sovereignty. This has been enhanced by the caretaker conservative government of president Mariano Rajoy who has been unable for almost ten months to form a new government following two general elections with no clear winner or willingness to form a ruling coalition.
London has said it is up to Gibraltar to decide on its sovereignty, and the local government has insisted it has no interest in joining Spain. At the most they accept tri-partite talks, Madrid, UK and Gibraltar as was the case under the last Socialist governments in Spain.
In 2002 Gibraltar held a referendum on its future and overwhelmingly decided to remain as a British Overseas Territory and rejected any incorporation to Spain. Likewise last June, Gibraltar voted by a landslide 98% to remain in the European Union.