Sulivan Shipping opens Falklands' 2016/17 cruise season on Saturday with M/V Sea Spirit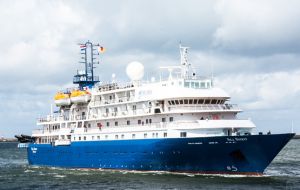 Approximately 63,000 cruise ship passengers arrivals are expected in the Falkland Islands this season which is slightly up on the previous season when just over 56,000 passengers were received from 105 ship visits. Staff at Sulivan Shipping are looking forward to the start of the 2016-2017 tourism season, with the arrival of the first cruise ship passengers on next Saturday's flight, to board the M/V Sea Spirit.
Sulivan Shipping is also ready to welcome the new addition of the MS Midnatsol (Hurtigruten) to the schedule, not only visiting Stanley but the outer Islands also.
This season will also see the return of regular cruise ships to the Islands including the Le Boreal which has undergone repair and refurbishment after last year's onboard fire in the north of Falklands waters.
Sulivan continue to assist in regular passenger exchanges during the upcoming season.
There has been some changes in the office with Sammy Marsh moving into a Consultancy Role and the introduction of Carli Sudder as Tourism Coordinator.
Carli is taking up cruise ship operations role from pre-planning in the office to becoming a regular sight at the Jetty Visitor Centre (JVC) and FIPASS on cruise ship days. She has been a familiar face within the Sulivan team in the past working alongside Sammy at the JVC and on Sulivan offered excursions.
Carli worked as Personnel Coordinator at Falkland Islands Tours and Travels throughout the previous oil exploration campaign. (Penguin News)