Strong reactions from Andalucía and London to Garcia Margallo Gibraltar shared sovereignty rhetoric
Thursday, October 20th 2016 - 12:50 UTC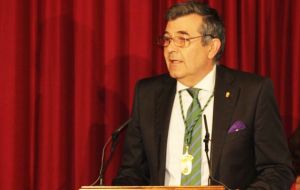 The Junta de Andalucia has distanced itself from Spanish foreign minister Jose Manuel García Margallo's joint sovereignty proposal for Gibraltar. Miguel Angel Vasquez says now is not the time to use inflammatory rhetoric or to talk about joint sovereignty.
Vasquez said the Junta would always stand by the Spanish central government on the Gibraltar issue, but argued that – with 10,000 jobs in play – all parties should be working together now to find solutions to the challenges thrown up by Brexit.
This sentiment was echoed by the President of the Mancomunidad de Municipios del Campo de Gibraltar. Luis Angel Fernandez Rodriguez who said they would like to see is "a politics of collaboration, good neighborly relations and economic cooperation"
From London, the British government reacting to Garcia Margallo's statements on Tuesday in Algeciras, reaffirmed that "it will never enter into arrangements under which the people of Gibraltar would pass under the sovereignty of another State against their wishes. Neither would it enter into any process of sovereignty negotiations with which Gibraltar is not content".
The Foreign Office spokesperson quoted by Gibraltar media added that the UK and Gibraltar Governments would welcome a return to the Trilateral Forum for Dialogue to discuss issues of shared interest with Spain.
On Tuesday Garcia Margallo said that with Brexit Gibraltar would become a third country for the EU, and thus "the border would become an external border of the EU. Gibraltar would be outside the single market, the four freedoms would not apply."
"That is what the Treaty says. It's not what we say we're going to do, it is what is going to happen and that is what we're trying to avoid."
García-Margallo said it was "impossible" for Gibraltar to retain its EU freedoms after the UK left the EU and thus there is no other option for Gibraltar to accept Spanish shared sovereignty with the UK.