Euro central bank leaves rates and stimulus program unchanged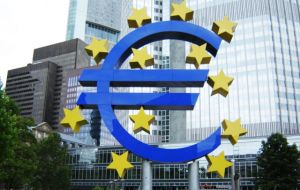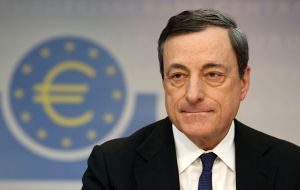 The European Central Bank left its key interest rates and its bond-buying stimulus program unchanged on Thursday as it seeks more data on the strength of Europe's modest economic recovery. The decision came at a meeting of the bank's 25 member governing council at its headquarters in Frankfurt, Germany.
The chief monetary authority for the 19 countries that use the Euro currency left its refinancing rate for lending to banks at zero and the rate on bank deposits at minus 0.4%.
The bank has said the purchases will continue in any case until inflation rises to more acceptable levels from the current 0.4 percent, but has left the end date otherwise open.
Its other stimulus measures have included cutting to zero its benchmark refinancing rate, which means banks can borrow from it interest-free, offering unlimited cheap loans to banks, and cutting the rate on deposits banks leave with it overnight to minus 0.4%. That negative rate is in effect a tax intended to push banks to lend excess funds, not hoard them at the central bank.
Analysts think the bank may wait until its December meeting to make clear whether it intends to prolong the bond-buying program. At that meeting, Draghi and the other board members will have new forecasts compiled by ECB staff on the future course of inflation to help them make a decision on whether more stimulus is needed and, if so, how much.
Some analysts think that persistent low inflation will lead the ECB to extend the bond purchases for at least six months. Minutes of the September meeting showed that bank officials were still concerned that inflation had not turned decisively upward, and that the economy still needed the current level of central bank help. Both those worries argue for keeping the program going beyond March. The ECB's first priority is price stability — that is, avoiding both extremes of inflation or deflation.