García-Margallo claims "confidential" talks on co-sovereignty with Gibraltar personalities
Friday, October 21st 2016 - 08:06 UTC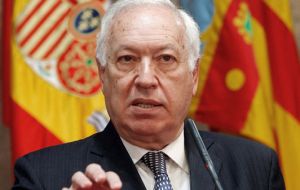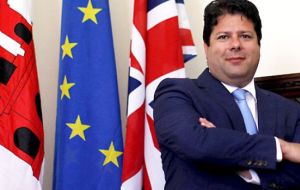 Spain's caretaker Minister for Foreign Affairs, José Manuel García-Margallo, claimed that he had held "confidential" talks on co-sovereignty with "personalities" in Gibraltar. However the minister gave no indication as to who he had spoken to, according to Spanish press reports.
"Those conversations have already started, but of course they are absolutely confidential and what they aim to do is establish what the scenarios are," he reportedly said, according to Efe, Spain´s official news agency.
He made the claim during a lunchtime event at the Club Siglo XXI, where he again insisted that joint sovereignty was Gibraltar's only option to retain access to the EU. That position has been firmly rejected by the Gibraltar Government, which says other alternatives are possible.
In effect Chief Minister Fabian Picardo said that Spain remains the only stumbling block to the UK negotiating a different Brexit solution for Gibraltar
In making the statement Mr Picardo, speaking on Canal Sur television, rejected the position set out by acting Foreign Minister García-Margallo, during a visit to the Campo on Tuesday. He argued that it would be "impossible" for Gibraltar to retain any of the EU freedoms once the UK was out.
"I don't agree with the minister when he says that a colony of a third country cannot access the EU market or freedom of movement," Mr Picardo said.
"Look at Andorra, Lichtenstein, Monaco and San Marino. All are outside the EU, they are not members, but they enjoy agreements of association, freedom of movement, market access and so on."
"I'm not saying Gibraltar should become a member of the European Union," he added.
"What I'm saying is that in the UK's exit, the agreement reached in relation to Gibraltar should continue to give us access to the single market and freedom of movement."
"These things are not impossible." Mr Picardo said that he had spoken to numerous officials in Brussels and representatives from other EU countries and "…all agreed that it was possible…"
"The only problem is Spain, which insists that the price is sovereignty," he added.
During a lengthy interview, Mr Picardo reflected on the trilateral forum and how it had proven that it was possible to set aside sovereignty in the interests of dialogue and cooperation. But he said Gibraltar was "absolutely not" willing to pay for EU access by accepting Spain's co-sovereignty proposal, adding that for Spain to impose that demand showed a lack of respect.