UK is still a full member of the EU and will attend all meetings, PM May tells Europe
Friday, October 21st 2016 - 08:25 UTC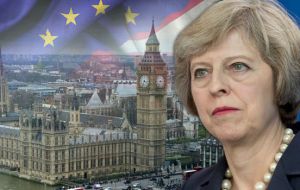 Prime Minister Theresa May told EU leaders that Britain would not just rubber-stamp agreements made between the other member states when they meet as 27. In her first European Council, she said that as long as the UK was a full member of the EU, it wanted a seat at the table for discussions over the bloc's future.
That intervention came during a discussion on migration policy and the Schengen Zone. The initiatives presented had earlier been discussed at the informal meeting of 27 member states, held in Bratislava after the UK 23 June vote to quit the bloc.
Sources said the atmosphere was "friendly" and that some leaders had "a sense of guilt". But there was no suggestion that the 27 would not continue to hold the smaller summits, and May did not ask for them to be stopped.
However there is "a British concern between the articulation of the Bratislava Roadmap and the implementation of it, which is for all 28 (member states).
"In substance, there is no disagreement with that. The 27 cannot agree something that the UK is supposed to just sign up to."
There was no response to May's comments from the other EU leaders.
European Council President Donald Tusk is said to have told May that the meetings of 27 would continue. One is already planned in January in Malta. The European Commission has repeatedly said that the UK will remain a full member of the EU, with all rights and obligations, until it officially leaves the bloc.
The EU-27 cannot come to legally binding decisions in the same way as the full European Council.