Billions pour in to buy Argentine bonds, "sign of growing investor confidence"
Monday, October 24th 2016 - 17:43 UTC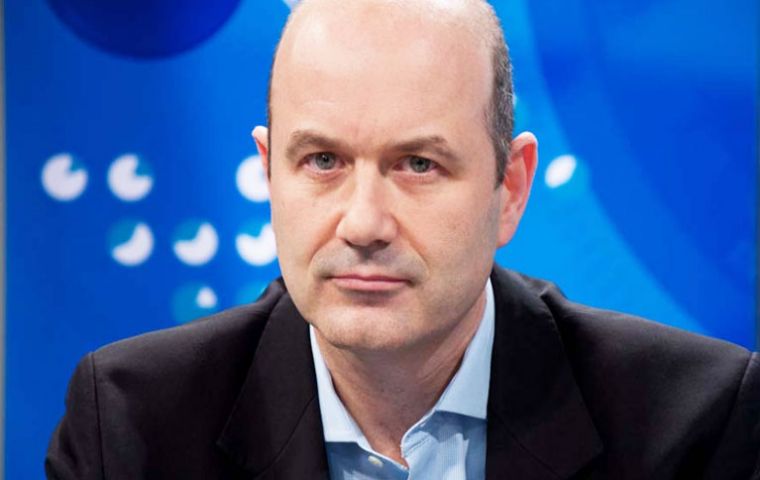 Argentina's international currency reserves rose above the landmark US$40 billion for the first time in three and a half years last Friday, as a huge inflow of dollars from government-issued debt and some exports over the last few days caused some dramatic increases this week. The milestone, according to Central Bank chief Federico Sturzenegger, was "a sign of growing investor confidence in the country."
Foreign reserves rose to US$40.6 billion, the Argentine Central Bank reported, their first time above the US$40 billion mark since April 2013. That marked a 63% increase from US$24.9 billion on December 2010, the date of President Mauricio Macri's inauguration, according to the monetary authority.
A large part of that increase has come from loans to the Central Bank and bonds raised by the Treasury. Those dollars are counted as part of the Central Bank's reserves.
The devaluation in December 2015 also helped boost the reserves as it pushed grain exporters sell the produce they were hoarding, bringing more dollars into Argentina.
With Argentina unable to borrow on international markets after a record 2002 default, dwindling reserves during the Cristina Fernández administration raised the specter of a balance-of-payments crisis. The government restricted imports and foreign currency transactions since 2012 in order to try to keep reserves without resorting to a devaluation that would hit purchasing power, but reserves kept decreasing.
Macri ended currency controls and let the Argentine peso float shortly after taking office, and settled a legal dispute with US hedge funds, paving the way for the country to return to global capital markets with its US$16.5 billion sovereign debt sale in April, ending concerns about financing sources by re-entering global bond markets.
"I have insisted that the level of reserves is not very relevant. But the fact that they've risen above US$40 billion says something about growing confidence in the country," Federico Sturzenegger said on Twitter.
According to Sturzenegger, the main concern of the Central Bank should be to sustain the value of the peso by printing less pesos. To achieve that, the Treasury has vowed not to ask for so many pesos from the Central Bank to finance its fiscal deficit. Instead, it is raising debt abroad and has promised to cut the deficit in the coming four years.
Inflation over the last 12 months has been close to 40% after a spike following December's lifting of the so-called "clamp" on foreign currency transactions, leading to a loss of purchasing power.
Over the last few months, although Argentina is still in a recession, inflation has slowed down (Sturzenegger is targeting 17% next year), leading officials to argue that this was evidence of the country being on the right path.
The Argentine Treasury managed to raise 76.4 billion Argentine Pesos in the market. This was made up of 53.6bn Pesos in a ten year bond with a fixed rate of 15.5%, while the rest was raised with a 7 year bond also at a 15.5% rate.
According to the Argentine government this "historic" sum was possible because an estimated US$ 3.8bn from international foreign investors came into Argentina. Government plans to finance half the fiscal budget of the fourth quarter.