Uruguay first league match suspended following shootings among hooligan gangs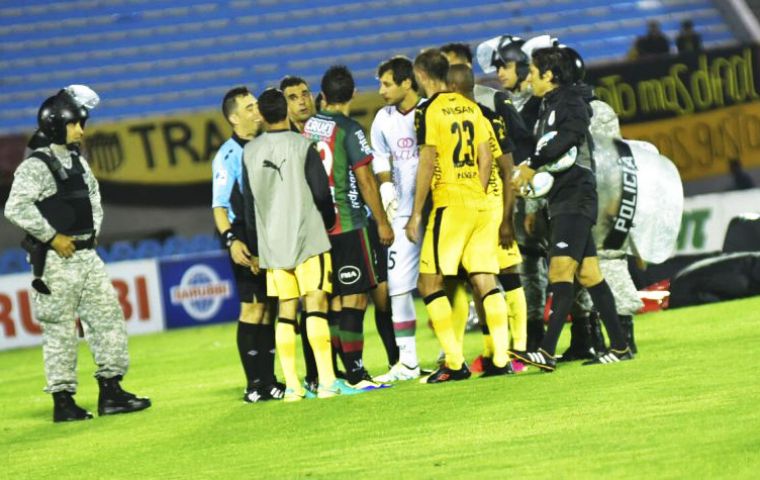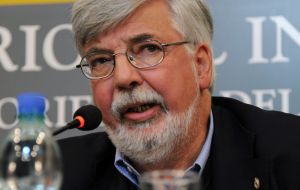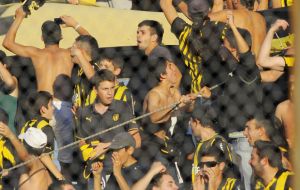 Uruguay figures among the ten best national teams in the world according to the FIFA rating and has players in some of the top European teams, but back home things are quite different: a Sunday first league match was suspended at half time following shootings among hooligan gangs in one of the stadium's toilets, according to the first official reports.
A young man was hospitalized with firearm wounds in an arm and leg and a second had to be taken to a clinic because of severe injuries suffered following a gang beating.
The incidents took place a few minutes before half time in a match between the famous Peñarol team (several times world and South American clubs' champion) and Rampla Jrs. The referee, once informed by security suspended the match and the teams did not return to the filed while the stadium was evacuated.
However Sunday's suspension caps a long history of confrontations between the Uruguayan professional clubs and the Interior ministry which has been refusing to send officers to the matches alleging several clubs are responsible for much of the violence in stadiums since they allegedly promote these hooligan gangs or "barra bravas" as they are known in the Uruguay and Argentina.
The gangs aggressively support their teams, attack other supporters, and are involved in street vandalism following matches or when travelling overseas with their teams. Battles are quite common, so are beatings, stabbings and sometimes shootings with the occasional fatal victim. Gangs intimidate police forces and are involved in the drugs trade.
Apparently this Sunday's afternoon incident involved two gangs supporters of the same team disputing control of the sale of drugs, and the big question is how a gun was introduced to the stadium. Allegedly private security metal scanned all those inside the stadium before entering, but social networks claim that it was not rigorous and some people were not scanned.
Private security, contracted by the clubs and the Uruguayan football association allege there is no way they can check if arms are not previously introduced to the stadium and hidden, and besides they are not responsible for intelligence gathering. This task as well as arresting and frisking, in Uruguay, is legally only an Interior ministry responsibility.
The ministry insists that clubs must self control their supporters since the police does not have the necessary manpower or funds for a growing presence of manpower as violence in football matches increases.
To make things even more complicated the current Interior minister (Home secretary) Eduardo Bonomi has been in the job since 2010, and is much criticized for his overall (mis) management of law and order and what seems an uncontainable wave of drugs related and street crimes.
Furthermore his wife lawmaker Susana Pereira, is a well known supporter of Peñarol and very closely linked to some of the gangs which support the team. She was caught in police bugging warning some members of the gangs that their phones were interfered. In another twist of her personality although in her CV she declared she was a registered teacher it turned out this was not the case.
Both minister Bonomi and lawmaker Pereira belong to ex president Jose Mujica's political movement.