FCO Minister, Baroness Anelay, marks UN Day on its 70th anniversary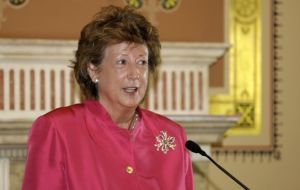 As Minister responsible for the United Nations, I see UN Day as a day of reflection about why the UN matters. The UN celebrated its 70th anniversary earlier this year, and the ambitions upon which the UN was founded remain as relevant and important today as they were at its inception.
Across the three pillars of human rights, peace and security, and development, the work of the UN is crucial to maintaining international order and enabling solutions to the global challenges we face.
Since its formation in 1946, the UK has been a proud and proactive member at the very heart of the UN and, as the Prime Minister made clear in her recent address to the General Assembly, that commitment remains as strong as ever.
Through our status as a permanent member on the UN Security Council, our global leadership on humanitarian assistance and our unwavering commitment to human rights, we will continue to be a force for good at our United Nations.
This week the UN will hold elections to the Human Rights Council. We have been campaigning hard, based upon five key pledges for action. Today, and every day, our pledge to the UN is simple: the UK will remain a strong, dependable partner internationally, true to the universal values that we share.