The "retributive" football spirit between Argentina and Uruguay
Tuesday, October 25th 2016 - 10:37 UTC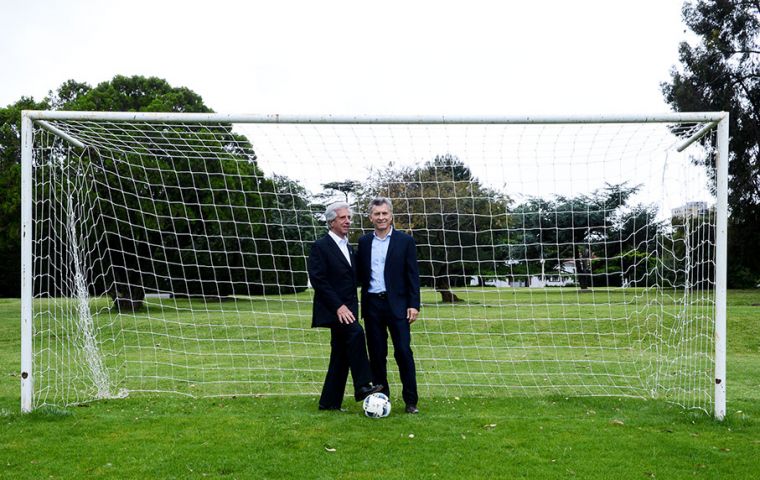 As could be expected soccer was not absent from the Argentina-Uruguay presidential summit in Buenos Aires on Monday. Mauricio Macri has been president of Boca Juniors, one of the two strongest and most popular Argentine sides and steered the club to reach several regional and continental cups.
Vazquez is also linked to soccer and was for several years president of a small club from his neighborhood that has competed in Uruguay's main league.
So it was no surprise that the two leaders agreed on two issues, one long term and very formal, ratifying the intention of Uruguay and Argentina to jointly host the 2030 World Cup, on the century anniversary of the first competition, played in Montevideo and with the final score of 4-2 favoring Uruguay.
"We are going to work jointly on our aspiration of organizing the 2030 Cup", confirmed Macri. So far the only similar event was back in 2002 when Japan and South Korea hosted the world event.
"I think that the fact we were the finalists in 1930, played in Montevideo, is a great handicap for us to request the organization", added Macri.
Finally the other less formal point referred to the current poor performance of the Argentine national team in the Russia 2018 qualifiers, "if we need an extra point to make it to Russia, we hope Luis (Suarez) gives us a hand and misses the score..."
And president Vazquez following on the prank said, "if something distinguishes us, is that we have that most retributive spirit...", most probably in reference to some previous situation but with roles changed.