Falkland Islands youth football team tours Chile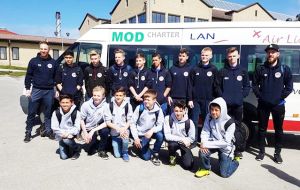 A youth football squad from the Falkland Islands is currently touring Punta Arenas, competing in a week long tournament against teams from the local area. The Falkland Islands Youth football team is currently in Chile this week training and competing in a week-long tournament against local sides.
The squad, aged between 12 and 15, arrived in Punta Arenas last Saturday and is scheduled to play four competitive matches this week along with one friendly game. They have already played three full fixtures since arriving, convincingly winning one and losing the other two.
This is the second time the Falkland Islands Football League (FIFL) has sent a youth team to Chile, previously sending a team in 2014. FIFL have benefitted greatly from local sponsors who have funded this year's youth trip to Chile, sending a total of 14 players and 4 support staff, including coach Troyd Bowles.
Speaking to MercoPress, coach Bowles says these type of trips are a great opportunity for young footballers in the Falklands and exposes them to quality opposition and competition that is unavailable in the Islands. He added that the age group selected for the current trip was done so to ensure a solid progression from playing football in the Falklands at secondary school to playing competitive football abroad while attending college in the near future, and eventually the full Falkland national squad in the future.
Coach Bowles wanted to extend his, and the teams, thanks for the great hospitality shown in Chile so far on the trip, with a special thanks to Milenko Buljan who has been a huge help and supporter of this, and past, FIFL trips. He also thanked the many sponsors who have help fund the trip and the Chilean teams who have turned out to face the Falkland's youth squad.
The Falklands sends their full national squad to international competitions, notably the Small Island Games every two years, and it is hoped as many of the youth players will eventually go on to feature for the adult squad in the future. The Falklands finished 12th at the last Island Games held in Jersey, out of a total of 16 teams. The next Games are to be held in 2017 in the Swedish island of Gotland.
The youth team's opponents for the week in Chile include two football academies based in Punta Arenas - CD Victoria and CD Sokol - and a local school side, Cruz del Sur.