Falklands/Malvinas: Ibero-American summit supports Argentine claim and calls for dialogue with UK
Saturday, October 29th 2016 - 10:24 UTC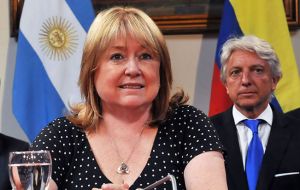 Argentine foreign minister Susana Malcorra thanked countries attending the XXV IberoAmerian summit in Colombia for their support to Argentina's sovereignty claim over the Falklands/Malvinas Islands and the compliance of UN resolutions calling for dialogue with the UK. A brief release from the Argentine ministry said "we are grateful for the support we have received from the IberoAmerican space on the Malvinas question".
"The summit includes a communiqué with reference to the Malvinas question and the support for Argentina's claim and for UN resolutions be complied", anticipated Malcorra on Friday before the closing of the event.
"This is what we systematically call on London to comply", said Malcorra. "This is what we tell the UK when we sit bilaterally, we want to advance in a dialogue in the framework of what has been defined by the United Nations".
The IberoAmerica summit is made up of Andorra, Argentina, Bolivia, Brazil, Colombia, Costa Rica, Cuba, Chile, Ecuador, Salvador, Spain, Philipines, Guatemala, Guinea Ecuatorial, Honduras, Mexico, Nicaragua, Panamá, Paraguay, Perú, Portugal, Puerto Rico, Dominican Republic, Uruguay and Venezuela.