Jorge Batlle, Political Scion Who Led Uruguay, Dies at 88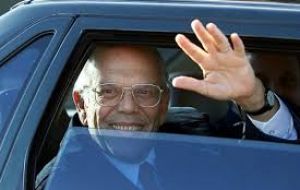 By Sam Roberts, The New York Times

Jorge Batlle, the brash scion of a political dynasty who had been groomed to be president of Uruguay since he was a teenager, got elected to the post on his fifth try and then audaciously presided over a pro-American administration that survived a brush with bankruptcy, died on Monday in Montevideo. He was 88.
His death, less than two weeks after he suffered brain injuries in a fall and the day before his 89th birthday, was announced by the Uruguayan government.
Mr. Batlle, a generally revered soul of Uruguayan politics for five decades, first sought the presidency in 1966 and then was barred from electoral politics by the ruling military dictatorship. After three more tries he won a five-year term in 1999. (The country's Constitution does not allow consecutive terms.)
When he took office, in 2000, he was the country's first civilian president since the military relinquished power in 1985 to seek the remains of dissidents who vanished in the 1970s and '80s during an urban guerrilla war. The military yielded after general strikes led to a restoration of the Constitution and elections.
Mr. Batlle was the first Latin American leader to propose the partial legalization of drugs as a way to reduce trafficking, money laundering and profiteering by cartels. Legalization would have the added benefit, he said, of reducing addiction and lowering drug prices, which were being set by the cartels.
"If that little powder was worth only 10 cents," he said in 2002, "there would be no organizations dedicated to raising a billion dollars to finance armies in Colombia."
Criticized for the proposal, he later said he had made it to provoke debate. In any case, it went nowhere.
While neighboring countries were shifting to the left politically, Mr. Batlle established closer ties with Washington, led at the time by Republicans. That alliance was vindicated during a 2002 recession when unemployment in Uruguay hit 20% and a run on bank deposits led the country to declare a four-day bank holiday, prompting President George W. Bush to support a credit extension of US$1.5 billion to Uruguay to stave off default.
Mr. Batlle strained relations with neighboring Argentina at one point when, speaking unwittingly into an open microphone after a television interview, he proclaimed Argentines "a bunch of thieves, from the first to the last."
Hours later, Mr. Batlle, as idiosyncratic as he was strident, flew to Buenos Aires to apologize to Argentina's president, personally and tearfully.
Mr. Batlle also confronted Cuba on its human rights record, leading Fidel Castro to denounce him as a "lackey" of the United States. Mr. Batlle severed diplomatic relations with Cuba in 2002, and they were not restored until three years later, when Mr. Batlle was succeeded by Tabaré Vázquez, a 65-year-old doctor.
The election of Mr. Vázquez was a milestone in Uruguayan politics. He was the first leftist to take power, and Mr. Batlle was the last president from the Colorado Party, which had produced all but one of Uruguay's elected presidents during the 20th century.
Jorge Luis Batlle Ibañéz was born in Montevideo, the country's capital, on Oct. 25, 1927, the son of Luis Batlle Berres, who was the president of Uruguay from 1947 to 1951, and Matilde Ibañéz Talice.
Born into a family that had originally immigrated from the Catalan coast in Spain, he had a political pedigree rooted in the 19th century. He was descended from two other former Uruguayan presidents, José Batlle y Ordóñez and Lorenzo Batlle.
Mr. Batlle was being groomed to be president as early as the late 1940s, when his father dispatched him, as a teenager, to represent Uruguay at official functions.
He was married to Mercedes Menafra. He is survived by two children, Beatriz and Raul Lorenzo, from his first marriage, to Noemi Lamuraglia; and four grandchildren.
Mr. Batlle was elected a congressman in 1958, two years after graduating from the University of the Republic in Montevideo with a diploma in law and social sciences. He was banished from political activity and imprisoned briefly after a military coup in 1973 and again barred from political activity in 1976.
He later presided over the Legislative General Assembly and, after his initial defeat in 1966, ran unsuccessfully for president in 1971, 1989 and 1994. In winning the presidency in 1999 he defeated a coalition of Socialists, Communists and former guerrillas by aligning himself with a center-right party.
"The first thing we need is institutional stability, next economic stability and finally social stability," he declared.
In his victory speech, Mr. Batlle vowed to lead "a government with the active participation of all the people to promote the ideals of democracy, tolerance and liberty." He appointed a peace commission to locate about 160 "disappeared" people, and later promised to pay their families damages. When a general suggested that the military might have to intervene in political affairs to combat leftist extremists, Mr. Batlle fired him.
As a president in his 70s, he described himself as being in the Carnelli Station of life — that is, the penultimate stop on the railroad line to Montevideo — with nothing to lose by speaking his mind.
"I am the way I am," he said, "and I am not about to change."