Argentina 2016/17 wheat production estimated at 14.4m tons and 8m tons exports
Tuesday, November 1st 2016 - 08:11 UTC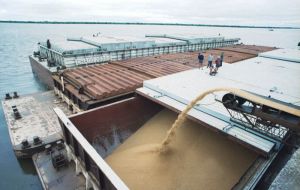 Argentina's wheat production is estimated at 14.4 million tons in 2016-17 and total exports are estimated at 8.03 million tons, the U.S. Department of Agriculture's (USDA) Foreign Agricultural Services (FAS) said in its latest report. The main market is expected to be Brazil, the historic, natural market for Argentine wheat and flour.
During Argentina's previous administration, exports of wheat were limited in order to keep the domestic market well-supplied and maintain low local prices.
According to the report, in 2013-14 exports to Brazil dropped by more than half, to about 2 million tons. This forced the neighboring country to reach out to other suppliers, such as the U.S. Argentine wheat exports to Brazil in 2016-17 are forecast at 3-4 million tons. Local traders indicate that Argentina's comeback most likely will negatively affect wheat exports from the U.S., especially those directed to supply the center-south of Brazil.
Total Argentine wheat flour exports for 2016-17 are projected at 850,000 tons (product weight), the equivalent to 1.1 million tons of wheat. This is the highest volume since 2012.
Just days after taking office last year, Argentina President Mauricio Macri implemented significant changes in the country's agricultural sector. He eliminated the export permit system known as the Register of Export Operations (ROEs), and he rolled back what was popularly known as the "dollar clamp," which lifted capital controls and in so doing devaluated the Argentine peso by about 45%, boosting the competitiveness of the agricultural sector.
With the new policies that the Macri Administration put in place late last year, total wheat exports rebounded significantly in 2015-16, the report said. Wheat monthly exports jumped from 53,000 tons in December 2015 to 940,000 tons in January 2016. The following months showed large volumes until August-September, when it began to slow down.
According to the FAS, exports of feed wheat to Southeast Asia countries and South Korea were unusually high, as traders exported high stocks of low protein wheat produced in the 2014-15 and 2015-16 crops.
Wheat domestic consumption for 2015-16 is estimated by the FAS at 5.9 million tons. Based on official data, flour milling in the first seven months of 2016 dropped 5%. This is a reflection of a slow economy which is adjusting to a new environment proposed by the Argentine government in order to have a more sustainable economy in the future. The report said, most economists are quite optimistic about the country's growth as of 2017.