Maduro and opposition leaders meet under the mediation of Vatican envoys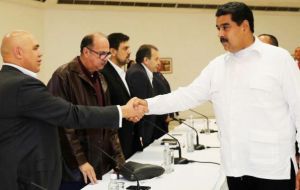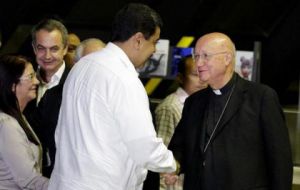 For the first time in at least two years, Venezuelan President Nicolas Maduro and his political team have met with several opposition leaders in attempt to defuse the country's political crisis. The opposition's main demand is to revive a suspended a recall referendum that could lead to the ouster of President Maduro. Tens of thousands of protesters took to the streets in recent days to support to recall effort.
In the presence of international mediators, Maduro met Sunday in Caracas with five opposition leaders, including Democratic Unity coalition secretary-general Jesus Torrealba and opposition governor Henri Falcon.
"We come here willing to listen and, hopefully, be listened to, and find points in the common interest of the great majority of the country, of the national interests. I think that this is not the time for long speeches but rather to assume a deep commitment," Maduro said during a televised ceremony live across Venezuela.
The initiative is part of a Vatican-led effort to defuse the country's political crisis after Pope Francis met privately with Maduro.
"The government and the opposition committed to lowering the aggressiveness in the language used in political debate," papal envoy Archbishop Claudio Maria Celli said.
Venezuela's electoral officials suspended the referendum effort earlier this month, alleging that fraud had taken place as signatures were being gathered to request the recall vote.
Opposition leaders who attended the talks with Maduro threatened to boycott further meetings if their demands were not quickly met.
"We are here also to demand an electoral solution to the crisis in Venezuela. There is a point in the document that, in diplomatic jargon, establishes the review of the electoral program, the electoral institutionalism, and the respect and promotion of the electoral timetable in the constitution," the Democratic Unity coalition's Torrealba said during the meeting.
"That is the rescue of the recall referendum because what we are certainly discussing is the advancement of the presidential elections, that is what we are dealing with, that is what is on the table, what we are discussing, and also the topic of normalizing the country's institutional life that deals with reinstating the deputies from Amazonas," Torrealba added.
Polls show if the recall referendum is reinstated, Maduro would lose the presidency. Maduro's political opponents have accused him of staging a "coup d'etat" by stopping the effort to hold a vote to remove him.