Norovirus outbreak in Massachusetts shellfish growing areas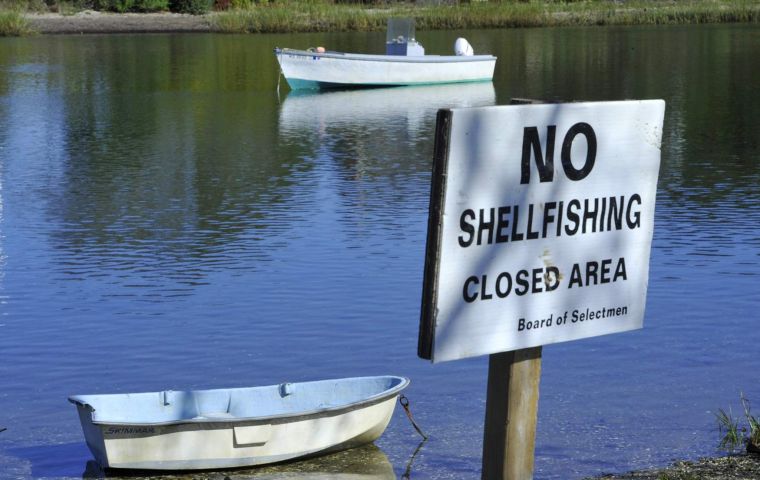 The norovirus which has caused havoc to the cruise industry had emerged in Massachusetts waters forcing the closure of shell fishing within Wellfleet Harbor. The ban imposed by the Massachusetts Division of Marine Fisheries (DMF) has been set since October 28, but does not include bay and sea scallop adductor muscles and carnivorous snails, including conchs and whelks.
The closure of designated shellfish growing areas CCB11-CCB14 was a result of a determination by the state's Commonwealth's Department of Public Health (DPH) that multiple illnesses had been linked to the consumption of shellfish harvested from the area.
Public health officials received reports of approximately 75 suspect cases of norovirus over two days, primarily associated with eating raw shellfish at events and at restaurants in the Outer Cape Cod area. Further investigations by Department of Public Health epidemiologists following the closure confirmed that the cause of the illness outbreak was norovirus.
Removal of any shellfish (seed or market size) from aquaculture sites for offsite culling was originally prohibited, which was amended on October 25.
Aqua culturists are now allowed to transfer seed shellfish to offsite locations. Work to maintain gear or shellfish aquaculture sites will be allowed provided the grower gives prior daily notice to the local shellfish department who will maintain a daily list.
Sale of seed shellfish from Wellfleet Harbor for purposes of aquaculture or propagation is prohibited except for within Wellfleet Harbor.
The DPH Food Protection Program notified all businesses and wholesale dealers to recall any affected shellfish that was harvested on or after September 26. DMF also assisted growers with the retrieval and replanting of 180,000 oysters and 50,000 quahogs from primary shellfish buyers (wholesale dealers). These shellfish will be available for harvest once Wellfleet Harbor is reopened.
Wellfleet supports 71 shellfish aqua culturists who culture oysters and quahogs and soft shell clams on over 259 acres of tidal lands throughout the harbor.
Wellfleet ranks among the top three Massachusetts communities in terms of cultured shellfish production (6.7 million oysters and 5.9 million quahogs in 2015) and value (over USD 5 million in 2015).
In addition, 138 commercial and 891 recreational shell fishing permits were issued in 2016. When secondary support businesses are added to the picture, access to shellfish is critical to maintaining the economic engine within the community.
In order to settle the issue, DMF will have teams conducting pollution surveys early next week and the FDA will also be collaborating by offering the assistance of their specialists and laboratory facilities at Dauphin Island, Alabama to determine if shellfish are free of norovirus. (FIS)