A "flat" cruise season officially begins this week in Montevideo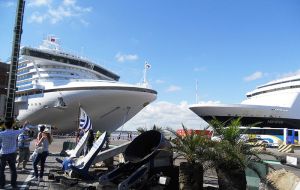 The 2016/17 cruise season officially begins this week in Uruguay with the arrival of MS Zaandam and Insignia. Zandam belonging to Holland America Line with capacity for 1.432 passengers usually calls several times in Montevideo during the season.
According to Minister Lilian Kechichian this summer the number of calls in Montevideo has been confirmed at 97 and another 54 in Punta del Este, the main Atlantic seaside, which is not encouraging compared to other seasons and an expected growth tendency of the industry worldwide.
However Kechichian who last week hosted a regional cruise industry conference in Punta del Este admitted that even when this will be a flat season, prospects for 2017/18 are very positive since the Argentine authorities have agreed to a considerable reduction in Buenos Aires port fees, which have become the main cost obstacle for regional tours.
These have only recently been announced and the industry usually works with one, two and even three season reservation advances.
In effect the several companies that have abandoned the Brazil/Uruguay/Argentina tours have moved to other areas of the world and "it won't be easy to bring them back, but we are working on that", revealed Kechichian.
With the purpose of recovering the cruise business Argentina's ministry of Tourism Guillermo Dietrich and the port of Buenos Aires authority Gonzalo Mórtola have anticipated some of the lower fees to be charged in the future. Landing fee of US$ 14 will be applied for the whole circuit and not for each port as currently and in off season it has been cut to half.
In 2015 when the 2014/15 season the government of president Cristina Fernandez unexpectedly and with no previous warning increased the fee from US$10 to US$14, and for the landing in each Argentine port. It was also agreed to work jointly with the private sector to promote the industry, the port of Buenos Aires and Argentina.
Likewise to increase the number of visitors and landings those companies that bring more than 350.000 passengers per season will have a special rate discount per 10.000 pax.
"We're improving conditions for the cruise industry which in these last years was exposed to negative decisions, limitations and obstructions. We have the opportunity and a huge responsibility of helping both the tourism and transport industry, so closely linked and with the chance of creating jobs", said minister Dietrich