Portugal pledges in Brazil to promote Mercosur/EU trade agreement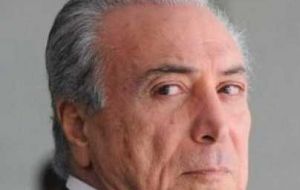 Brazilian president Michel Temer said that Portugal and Spain are determined to help speed trade negotiations between Mercosur and the European Union. Temer made the announcement on hosting Portuguese Prime Minister Antonio Costa who was on a brief visit to Brazil for the Community of Portuguese Language Countries summit in Brasilia.
"Portugal can become another strong voice in the EU to help make possible this trade agreement the soonest possible", said Temer who then emphasized, "we already have the commitment from Spain".
"Brazil will always count with Portugal, not as a spokesman but as a partner in the negotiations since the closer the relation between Europe and Mercosur, the closer the relation between Portugal and Brazil" said the Portuguese leader.
EU/Mercosur negotiations have been stalled for years, for different reasons from both sides, and have only been resumed recently with a round of technical talks, the latest of which took place in Brussels and the next are scheduled in Buenos Aires next March. Mercosur founding members Argentina, Brazil, Paraguay and Uruguay are involved in the talks, but not Venezuela which still has to comply Mercosur legal and tariff framework.
Temer said that during the talks with PM Costa he invited Portugal to participate in the ambitious infrastructure program which Brazil is implementing including a raft of privatizations.
"Portugal has 600 companies in Brazil which have created thousands of direct and indirect jobs, and could become a crucial factor in the infrastructure program in areas such as airports, port terminals and highways", added Temer.
During the ceremony at the Planalto palace the two countries signed technical cooperation agreements with third countries and in the areas of technology and Antarctica research.