Storms cause damage and power outages in several parts of Paraguay - orange alert still on in Uruguay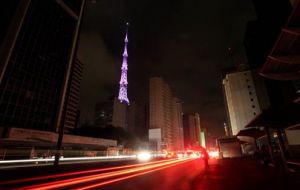 Various locations within the country, Central, Asunción and the metropolitan area have been area without power for several hours, even in places that were not hit directly by the adverse weather. But service had to be interruped nonetheless as several destructions were reported.
Cities like Pilar, Ciudad del Este and other departments of Misiones, like Villa Florida, San Miguel, Santa Rosa and Santiago, were also affected as nuclei storms in the afternoon were expected to reach the Asunción area during the night.
Power cuts also affected the supply of drinking water, according to reports on social media.
Heavy rain accompanied by strong winds reached Misiones at around 8pm Tuesday causing some material damages, such as columns and trees falling, while in Pilar, unconsequential rains arrived earlier in the day, but things were expected to get worse during the night, it was reported as a severe storm warning was issued for the whole country, the southern departments being those feared toi be affected the most, then .
Meanwhile, the Uruguayan Institute of Meteorology (Inumet) on Tuesday updated its orange warning for heavy rains and severe storms. The risk level is maintained for: Artigas, Rivera, Cerro Largo, Treinta y Tres, where very strong wind gusts between 75-120 km / h are forecast as well as a possible precipitation of hail, intense electrical activity and heavy rainfall (50-100mm in 6 hours).
To Tacuarembó, Salto and Paysandu, storms are expected, but with less intensity, so in those departments the risk level is yellow.