Trump overtakes Clinton for first time since May in ABC poll
Wednesday, November 2nd 2016 - 11:30 UTC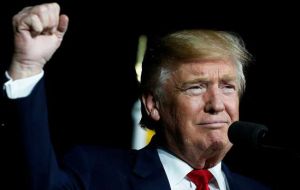 The Republican candidate now has a one-point lead in election that is too close to call, according to major survey.Donald Trump has overtaken Hillary Clinton to take a single percentage point lead in a poll by ABC, the first time he has done so since May. Though the result remains within ABC's margin of error, the broadcaster said the leaders changing places was a noteworthy moment with just a week to go until election day.
ABC has had the two candidates virtually neck-and-neck for the past week, with aggregated results suggesting Ms Clinton was ahead by just 0.4 of a percentage point. But enthusiasm for the Democrat candidate has slumped after the FBI revealed it would be opening up a new investigation into a set of emails sent during Ms Clinton's time as Secretary of State.
It makes the election too close to call, based on ABC's poll alone. Among the other runners, Gary Johnson dropped to a new low of 3 per cent and Green candidate Jill Stein polled at 2 per cent.
The network, which surveyed across the country, has not had Mr Trump in the lead since he was 2 per cent ahead in a hypothetical run-off against Ms Clinton back on 23 May this year.
Then, Mr Trump had just secured the GOP nomination, while Ms Clinton was still engaged in a fight for her place with Bernie Sanders.
Most polls also showed a spike in support for Mr Trump in late July, though ABC was not among those who had the Republican taking an outright lead.
It should also be noted that even this close to an election, a poll on voter preferences is not necessarily indicative of the final result. ABC noted that Mitt Romney was one point ahead of Barack Obama in a comparable tracking poll in 2012, while John Kerry held an identical advantage over George Bush a week out in 2004.