England and Scotland players defy FIFA and will wear poppies on black armbands
Thursday, November 3rd 2016 - 17:27 UTC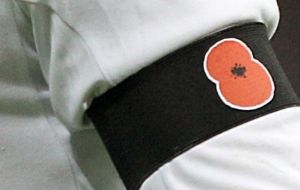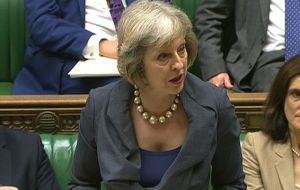 England and Scotland's footballers will defy the sport's global governing body and wear black armbands bearing poppies in their 11 November match. The FA and SFA have rejected FIFA's ban on poppies being displayed on the pitch for the World Cup Armistice Day qualifier. The ruling by football's world governing body was earlier described by the Prime Minister as "utterly outrageous".
FIFA has insisted that laws of the game which prohibit political or religious messages from players' kit mean poppies cannot be worn.
However, the FA said in a statement: "We do not believe it represents a political, religious or commercial message." It added: "The FA intend to pay appropriate tribute to those who have made the ultimate sacrifice by having the England team wear black armbands bearing poppies in our fixture on Armistice Day."
It said that this was in keeping with an agreement made with FIFA in 2011, when England, Scotland and Wales wore armbands wearing poppies in friendly matches.
A request to FIFA for the same approach this year fell flat. The SFA has issued an almost identical statement.
During Prime Minister's Questions, Theresa May lambasted FIFA, saying football's world governing body should "get its own house in order" before telling the country's footballers what to do.
She said: "Our football players want to recognise and respect those who have given their lives for our safety and security. I think it is absolutely right that they should be able to do so.
"I think a clear message is going from this house we want our players to be able to wear those poppies and I have to say to FIFA that before they start telling us what to do they jolly well ought to sort their own house out."
Under a rule in the 100-page FIFA Equipment Regulations, players are forbidden from wearing anything that could be construed as a political or religious statement on their shirts.
A FIFA spokesman said: "FIFA fully respects the significance of commemorating Remembrance Day on 11 November each year.
"The Laws of the Game are overseen by the International Football Association Board (composed of the four British FAs and FIFA) and applicable to all 211 member associations.
"The relevant Law 4, para. 4, clearly states that the players equipment should not carry any political, religious or commercial messages. The Laws are applied uniformly in the event of similar requests by any member association to commemorate similar historical event".