European lawmakers in Argentina to boost EU/Mercosur trade talks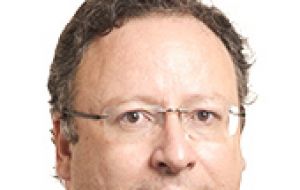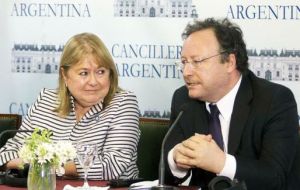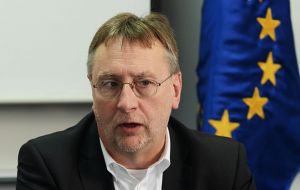 A European Union parliament delegation of fourteen lawmakers is in Buenos Aires to prop Mercosur/EU trade talks, and even admitting there has been advances, and prospects are encouraging, they also acknowledged that many objections from both sides persist.
The EU delegation is headed by German MEP Bernd Lange (SPD), chair of the European Parliament's Committee on International Trade, and by Portuguese MEP Francisco Assis (S&D), head of the delegation for relations with Mercosur countries. They are being hosted by Argentina's foreign minister Susana Malcorra.
"We will never reach any trade accord, unless we are not willing to face the domestic resistances, be it in Europe or in Mercosur; if we are hostages of interests, no matter how valid they might be, we will not be able to advance, however I'm very optimistic" said MEP Assis following a round of talks with Malcorra.
"The moment is coming when some political decisions will have to be addressed, acknowledging that it won't be possible to satisfy 100% of aspirations", but anyhow "we are professionals in managing these issues and undoubtedly there will be a convergence", said Malcorra.
The minister added that agriculture is the most complex issue, in which Europe might feel the impact of an accord, but "we must reach an understanding that this is a strategic agreement both for Europe and for Mercosur, and it can't be expected to have a zero sum result".
MEP Lange said he was satisfied with the renewed opportunity to advance relations in a globalized world, "we share and in which we all live, and for this it is necessary to stabilize the economic relation based in fair and positive trade, and I describe it as a big leap forward in the right direction".
Lange added "we are very much interested in accelerating negotiations and there are clear indications, and there are sixty areas in which we can advance and accord", and mentioned to this effect the coming round of EU/Mercosur, technical talks next March in Buenos Aires.
The Buenos Aires round follows another one held three weeks ago in Brussels, and Malcorra pointed out that "the coming round will be very complex, we have appointed committees but the exchange of proposals referred to tariff reductions have only been addressed from a technical point of view".
Malcorra underlined that for Mercosur the talks were a pressing issue, when not urgent, given the current economic situation, "and we must be imaginative. President Macri has a couple of trips to Europe scheduled for next year and if necessary will stop at Brussels".
"It's not possible to think in an accord of this kind without the involvement of business leaders, unions, farmers, which makes negotiations more complex but solidifies the final product. So far involvement has been limited and we must open the field", insisted Malcorra
MEP Assis said that there is a common concern among European lawmakers to reinforce political, cultural and economic links with Mecosur countries, and "we need a strong affirmative political attitude to address the international trade relations and we should work to make Mercosur/EU an example to follow, based on this ongoing dialogue".
Malcorra finally said the European delegation has an intense program in the next two days which includes meetings with members of congress and leaders from the private sector, "emphasizing on dialogue". Earlier in the week MEP members visited an abattoir and the cattle to market process in San Luis province. Beef is one of the most controversial issues of the EU/Mercosur talks, particularly objected by France, Ireland and some former Soviet republics.
MEP Lange praised Argentina for the significant changes implemented by the Macri administration and pointed out to the fact the country will host the WTO ministerial meeting in December 2017 and hold the G20 presidency in 2018. This is the third visit of a European parliament delegation to Argentina this year: last March the Foreign Affairs committee was in Buenos Aires and in August, the president of the parliament, Martin Schulz.