Bank loans in Argentina expected to double over the next three years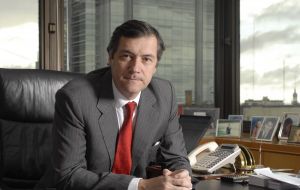 Banco Santander Rio CEO Enrique Cristofani also believes the economy will grow next year by 4% in a context that offers great opportunities to the country.
Banco Santander Rio CEO Enrique Cristofani, forecast Thursday that the volume of loans in the Argentine financial system will double in the next three years. He also estimated that the economy will grow next year by 4% in a context that offers great opportunities to the country.
"The Argentine financial system will double the volume of credit in relation to GDP within three years," said Cristofani during his speech at the annual press gathering. He also foresaw the coming years as a process in which "the Argentineans have a great opportunity to grow as a country," which will be up to not only the government but to all entrepreneurs, workers, politicians and every member of society." Cristofani likened Argentina's economic future to a sporting match: "we have to win by playing as a team," he said.
Cristofani also underlined that "the challenge for Argentina is to achieve structural competitiveness, and the pillars on which the structural competitiveness is based on are the cost of capital, infrastructure, reduction of the tax burden and and investment in human resources."
Accoring to Santander Río, Argentina can reach a GDP growth of 4% for 2017, half a point above official forecasts. Cristofani also announced that loans in US currency granted by the bank increased sixfold since last March while personal loans grew 77 % in the last 3 months, while pledge loans increased 80% in the last quarter.
Cristofani further stated that he has "great expectations about the evolution of mortgage credit," noting that "in three months we have granted housing loans in the amount of 280 million pesos and have credits with scoring approved in excess of 7,000 million pesos." Thus, he said, "banks can make an important contribution to reducing the housing deficit and contribute to the growth of the economy."
"This is a hinge year for Argentina and for our business, because if we reach a basic consensus we will be able to grow and develop, because the country owes itself an historic opportunity to lay out policies that go beyond the governments. It is a time to make decisions," Cristofani elaborated.
"Our human capital is good and it remains attractive to investments that require skilled employees, but we must work on our flow to compete in an increasingly globalized world, because education is a responsibility of the whole society" he added.
Cristofani also highlighted that Santander Río this year became "the first private bank in the Argentine financial system", after "the acquisition of the retail network of Citibank Argentina, which will add 500,000 individual customers to the bank and a network of 70 branches, and the agreement with American Airlines, which will enable our customers to earn miles with their credit card purchases through the AAdvantage program."
The 2016-2018 investment plan involves disbursements for nearly 20,200 million pesos for technology, modernization and opening of branches, and a new corporate building.
"As a result of a set of measures, Argentina country today has a curve interest rate in dollars to thirty years and one in pesos to ten years, something totally unthinkable less than a year ago," he explained.