Earthquake hits central Chile but no tsunami alert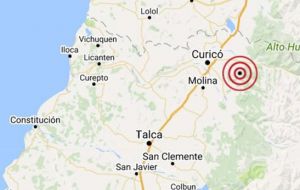 An earthquake measuring 6.4 points in the Richter scale was felt in central Chile on Friday afternoon, hitting the Santiago Metropolitan Area, O'Higgins and Maule, but no tsunami likely to hit shores.
A tremor was felt Friday afternoon between Coquimbo and La Araucanía, reaching 6.4 points in the Richter scale for more than a minute. According to the National Seismological Center, the epicenter was to be found some 38 kilometers southeast of Curicó and it was recorded at 1.20 pm local time, going 87.5 kilometers deep into the ground.
National earthquake authorities reported that the phenomenon does not meet the characteristics to generate a tsunami.
The Department of Telecommunications requested social networking users to communicate via text messages to prevent the collapse of telephone lines. The quake was also reported to have reached an intensity of VII on the Mercalli scale in Talca and Curicó, and VI in Cauquenes, Consttución, San Clemente, Linares, Rancagua, Christmas and Santo Domingo.
The Emergency Office announced on social media that technical agencies were assessing possible effects and damages caused by the quake between Coquimbo and La Araucanía, where it was stronger than in other parts of the country.
The mayor of Talca, Juan Castro, said in a TV interview that there had been no water shortages in the area. The situation on Juan Fernandez and Easter Island was reported to be normal, while Curicó officials were looking out for material damages or victims into the evening. Electricity suppliers reported no power cuts nationwide.
The US Geological Survey (USGS) also calculated at 6.4 Richter scale earthquake magnitude and its hypocenter stood at 90.8 kilometers below the superficie. The Chilean Hydrographic and Oceanographic Navy Service of the Navy (SHOA ) said the earthquake did not meet the necessary conditions to generate a tsunami off the coast of Chile.
The temblor, which lasted more than a minute, it was noted in the regions of Coquimbo, Valparaiso, Metropolitana, O'Higgins, Maule, Biobio and Araucania with different intensities, according to the National Emergency Office (Onemi). In the city of Curico, in the region of Maule, near the epicenter, the earthquake was felt with an intensity of VII degrees on the Mercalli scale, ranging from I to XII.
Chile is one of the most seismic countries. Last year, an earthquake of a Richter magnitude of 8.4 shook northern Iraq and in 2010, another quake of 8.8 hit central and southern Chile, leaving more than 500 dead.