Trump not such an unlikely winner has Mexico drafting alternate plans
Friday, November 4th 2016 - 07:14 UTC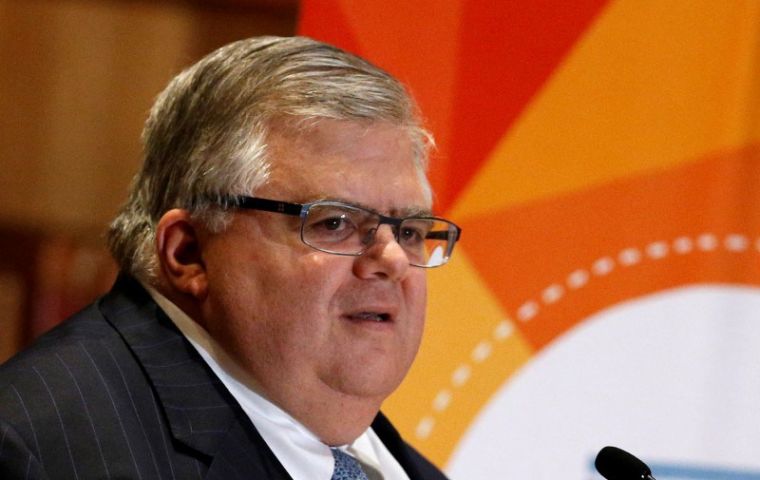 Central Bank governor and finance ministry are in the process of adjusting their economic policy should the Republican candidate be elected. Mexican Central Bank governor Agustín Carstens, notorious for having stated that a victory for Donald Trump would hit his country like a hurricane, admitted Thursday he is readying a contingency plan for an "adverse" election result in the United States' presidential elections.
.
"If the adverse situation materializes it's foreseeable that the Mexican authorities respond in some way. It's a contingency plan that we're discussing with the finance ministry, we hope we don't have to use it," Carstens said in a TV interview.
Carstens said there was an "adverse" candidate for Mexico in the November 8 election and noted there could be market volatility regardless of the victor. "Either way, we the authorities would need to adjust our policy position if it's necessary," he added, but failed to provide details of the alleged contingency plan.
Trump's threats to tear up a trade deal with Mexico, build a huge border wall and his attacks on US companies investing in the country have spooked investors, hurting the peso. Interest rate increases and interventions in the market have been Mexico's main tools to support its currency.
Economists said on Thursday they believed the Bank of Mexico will attempt to smooth the transition to a Trump presidency using a combination of currency reserves and rate hikes, possibly to the tune of 150 basis points.
Finance Minister José Antonio Meade, explained that when volatility is caused by global concerns, intervening in the market would be like "pouring drops of water into the ocean". He added that "it is not an instrument that would work," he said.
According to Carstens monetary policy could change depending on the election result. On 30 September, Carstens likened a Trump win to a hurricane hitting his country, and said a victory for the Democratic candidate, Hillary Clinton, would be better for the economy.
Maintaining Mexican inflation close to its target rate would be the central bank's "guiding principle" going forward, Carstens said. The bank targets inflation of 3% with a one percentage point tolerance zone on either side.