Bank of England raises inflation and growth forecasts, but Brexit uncertainty remains
Saturday, November 5th 2016 - 09:49 UTC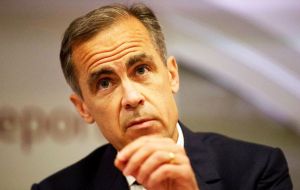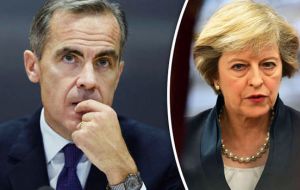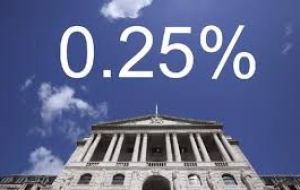 The Bank of England has raised its near-term growth and inflation forecasts on Thursday following the slide in sterling seen since the U.K.'s decision to leave the European Union. The bank decided Thursday to keep interest rates at the record low level of 0.25% and maintan its quantitative easing (QE) purchase targets at up to £10 billion for corporate bonds and £435 billion for U.K. government bonds.
In it's quarterly inflation report, the U.K. central bank pointed to the pronounced tumble in sterling since the EU referendum as the primary reason behind the hike in its 2017 inflation forecast to 2.7% from its August estimate of 2.0 percent.
The BOE sees inflation peaking at this level before edging back down to 2.5% by the end of 2019 and then being "likely to return to close to" the bank's 2.0 percent target during 2020.
In bumping up its GDP forecasts for this year and next, the bank highlighted the unexpected resilience of household spending and the housing market as well as the bounceback recorded in indicators of activity and business sentiment since the dark days immediately following June's Brexit vote.
While 2016 GDP is seen at 2.2%, only 0.2 percent higher than forecast in August, the bank's GDP estimate for 2017 has been catapulted skywards from its August estimate of 0.8% to Thursday's revised figure of 1.4%.
The revised figures follow the Bank of England's decision in August to cut its interest rate from 0.5% to 0.25% and boost its bond-buying scheme.
Talking to reporters following the release of the quarterly inflation report, Bank of England governor Mark Carney said the revised forecasts were "neither solely due nor totally unrelated" to the Bank's decisions back August.
The BoE's decisions — and Carney's comments in favor of remaining in the EU in particular — have proved to be controversial. However, the governor dismissed any strained relationships with the U.K. government.
"No we don't feel under any pressure from the government and particularly not from the prime minister," the governor told reporters.
Yet, while the BOE acknowledges that the economy's buoyancy in the wake of the EU referendum has exceeded its expectations, it also revised down its growth outlook further ahead, in a sign that it has deferred rather than an eliminated its concerns over how Brexit will play out.