Garcia-Margallo replaced by pro-Europe diplomat in Rajoy's new cabinet
Saturday, November 5th 2016 - 06:57 UTC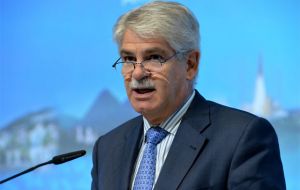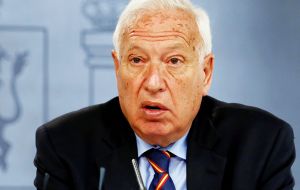 Spain's Prime Minister Mariano Rajoy has dropped José Manuel García-Margallo from his cabinet, replacing him as Foreign Minister with a career diplomat from Jerez de la Frontera. Although there had been wide speculation that García-Margallo would not continue in the Ministry for Foreign Affairs, the appointment of 61-year old Alfonso María Dastis Quecedo took most pundits by surprise.
Dastis Quecedo is a lawyer who joined Spain's diplomatic corps in 1983 and has held senior posts in the UN and the EU, where he is currently Spain's permanent representative.
In a 2014 article, the website Politico quoted one senior EU official describing Sr Dastis as "one of the Spaniards who has contributed most to Spain's EU policy".
According to Politico, Sr Dastis was EU adviser to José Maria Aznar, Spain's first post-Franco conservative prime minister, from 1996 to 2000, and was in charge of organising Spain's presidency of the Council of Ministers, which ran in the first half of 2002.
He is described as "private and cautious", a family man who, according to Politico, is married to a partner in the British law firm Clifford Chance.
There was no formal reaction to the new appointment from the Gibraltar Government, though officials privately hope that the new Foreign Minister will adopt a less strident approach to Gibraltar then his predecessor.
The decision to drop Sr García-Margallo came just hours after the Foreign Affairs Commission in the Spanish parliament approved a motion calling for consensus on Gibraltar and a focus on dialogue and cooperation.
The motion, which was backed by the PP, PSOE and Ciudadanos, pecifically called on the government to avoid "actions which, in a unilateral way, could condition Spain's negotiating position in future" with regard to Brexit.
It did not include any support for García-Margallo's joint sovereignty proposal and was seen in the Spanish media as a public snub of the former Foreign Minister.
The changes in Sr Rajoy's cabinet reflected that start of a new era of minority government.
In total he brought in six new faces and handed an expanded role to Economy Minister Luis de Guindos, who has a key budget-coordinating role with Brussels.
The new, younger 13-member cabinet includes five women and gives a new role to Deputy Prime Minister Soraya Saenz de Santamaria, who will take charge of relations with Spain's autonomous regions at a time when the wealthy northeastern Catalonia region plans an independence referendum. Other key changes included the appointment of Juan Ignacio Zoidi at the Ministry of the Interior, replacing Jorge Fernadez Diaz who was also dropped from the government.Maria Dolores de Cospedal was appointed Minister for Defence.