OAS Electoral Observation Mission to the United States completes deployment
Saturday, November 5th 2016 - 10:11 UTC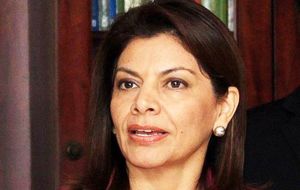 The Electoral Observation Mission of the Organization of American States (EOM/OAS) to the United States has completed the deployment of its observers and experts ahead of the General Elections that will be held next Tuesday, November 8th. On November 9th, the day after the election, the Chief of the OAS Mission will present a preliminary report.
The members of the Mission began their deployment this week in states that allow international observation, including California, Colorado, Kansas, Iowa, Maryland, Minnesota, Montana, Nebraska, New York, Rhode Island and Wisconsin, as well as the District of Columbia, where they observed early voting processes and met with state authorities to learn details of each specific electoral process. They met with the following electoral authorities and stakeholders, among others:
• the Assistant Secretary in the Department of State's Bureau of Western Hemisphere Affairs,
• the Federal Election Commission,
• the National Association of Secretaries of State (NASS),
• the Federal Communications Commission Media Unit,
• the Election Assistance Commission,
• the Federal Voting Assistance Program,
• Secretaries of State,
• representatives from the two major political parties,
• members of Boards of Elections and of the Electoral Commission,
• county and municipal clerks,
• civil society organizations,
• campaign finance divisions,
• authorities in Pennsylvania, Georgia, the District of Columbia and Maryland.
The Chief of the Mission, former Costa Rican President Laura Chinchilla, said that the 41 international observers and experts that make up the team "have been observing early voting processes and we hope to continue to see a great turnout on Tuesday. Our experts on electoral organization and technology, campaign financing, political participation in the process and the role of the media in the campaigns are collecting valuable information to fulfill both of our goals: learning about practices that can be shared with other member states and providing recommendations to the host country on areas of potential improvement.".