Garcia Margallo's Gibraltar obsession, until the very end of his ministerial tenure
Monday, November 7th 2016 - 05:53 UTC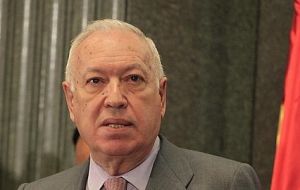 José Manuel García-Margallo urged his successor to pursue the "opportunities" that Brexit offered Spain in its sovereignty aspirations over Gibraltar. In a farewell speech as he handed over to Alfonso Dastis Quecedo, Spain's new Minister for Foreign Affairs, García-Margallo listed what he believed were his main achievements in office and included his strategy on the Rock.
He told the new minister that he had paid "special attention" to Gibraltar and "…the opportunities offered by Brexit to regain the Spanish sovereignty [of Gibraltar] that we have been claiming for more than 300 years…"
"This match is not going to be played in two years' time, it's going to be played in March," García-Margallo said, a reference to Prime Minister Theresa May's plan to trigger Article 50 early by March 2017.
Spain, he added, must convince other EU members that Gibraltar – "which is not part of the UK" – must not be included under "the umbrella" of the UK's negotiation for withdrawal from the EU.
Otherwise "…we will have the paradox of having a third country, a country outside the EU, having a colony in the EU, which would be a memorable nonsense."
García-Margallo also told Dastis that his decision to close the Cervantes Institute here had been a matter "of national dignity".
Dastis Quecedo, a career diplomat who until now was Spain's permanent representative in Brussels, has been described as "the exact opposite" of his predecessor in terms of temperament.
But the two men have worked closely on European issues over the past five years, and Dastis Quecedo was the first ambassador appointed by García-Margallo when he took office.
In his first public statement as Foreign Minister, Dastis Quecedo described the former minister as "…very erudite, with a capacity for easy and immediate response, a person with an articulate discourse who everyone listened to…"
But while he reflected on some of the minister's achievements, he made no mention of Gibraltar. Instead, he said "…the priorities will continue to be the same, Europe in the first instance but also the other geographical areas of special interest for Spain, in particular Latin America."
As a diplomat who is more accustomed to working behind the scenes, Dastis Quecedo confessed that he found it "very strange" to be in the limelight.