Argentine economists choose Hillary Clinton for president
Tuesday, November 8th 2016 - 07:04 UTC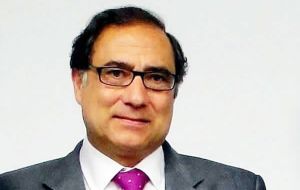 Analysts estimate Clinton would continue the bilateral relationship, while Trump is a mystery that would halt trade and investment worldwide
There is no doubt that the presidential election of the United States will have an economic impact all over the world and also in Argentina, which is why the government of President Mauricio Macri has reportedly put aside prudence and replaced it with a touch of sympathy for the Democratic candidate, a leading TV show in Buenos Aires reported Monday.
According to the experts, a Clinton triumph would ratify the bilateral relationship and favor trade and investment in Argentina. Instead, if Republican Donald Trump becomes president, the global economy can suffer the blow.
"No one knows what can happen to a person like Trump," Jorge Argüello, a former ambassador to Washington DC and author of The Urgent History of the United States, said that "if something clearly distinguishes the two candidates, it is predictability. Clinton would be a much more predictable president than Trump," he continued.
Analysts agree that the protectionist policy fostered by Trump would impact global trade and cause a certain cramp in the markets. The Republican candidate's promise to build a wall on the Mexican border, which would restrict the movement of people and goods is not to be taken lightly. Also causing grave concern is the planned imposition of tariffs of up to 45% on Chinese goods.
This type of policy would seek to re-establish industries in the United States, to the detriment of Latin American and Asian countries that received plants from companies that sought to reduce costs. This led to a radical transformation of production in the northern country in recent decades, which Trump promises to reverse.
According to Luis Palma Cané, an economist with the consulting firm Fimades, "there will be a strong impact on the US and international financial system, enormous stability, low stock markets and capital flight", which will seek investment destinations considered safe, such as bonds issued by United States or Germany. "The Trump clown has promised to return to protectionist and populist policies, which is like returning to the Paleozoic era," continued Palma Cané.
Economist Dante Sica, director of Abeceb.com, said that Argentina could suffer. "On the financial side, there could be some negative short-term effect, as a drop in the stock market and rise in Country Risk, accompanying the increase in global financial volatility," he said.
"As for foreign policy, it would also open a window of uncertainty as to the consolidation of the bilateral relationship in a context in which the Macri government bet on an approach to the United States, but discounting Hillary's triumph," he continued .
According to the experts, a victory of Trump could undermine the process of investments Macri so intensely seeks. The United States is the main source of disbursements announced for the 2016 - 2019 peroid. Trade between the two countries grew and Argentine exports increased by 30% in one year to US $ 3.2 billion amid stagnation in sales elsewhere.
Various Macrist officials have already hinted a preference for Hillary. Production Minister Francisco Cabrera went to Washington with the intention to deepen an agenda of greater commercial openness, which would be overshadowed if Trump arrives at the White House.
"If Trump wins, we will have to adjust," Chancellor Susana Malcorra admitted last week. "It will have to be connected in the best possible way," he acknowledged.
"Clinton is seen as a bet on the continuity of Barack Obama's administration," Sica said. "Although it must be recognized that very little has she outlined the relationship with Latin America," he added. In his opinion, Clinton is a "commitment to continuity," which, with governments in Argentina and Brazil more open to Washington," could imply closer ties with the United States."
Argüello, however, warned that Clinton also criticized the succession of free trade treaties that Obama signed and opposed with emphasis the Transpacific Treaty (TPP), the agreement to remove barriers in trade between America and Asia ( Excluding China) that propelled the White House and which Argentina wants to approach. "This is going to affect the intensity of trade," he said. However, he considered that "Clinton is going to broadly continue Obama's foreign policy," with which the Macri administration feels comfortable.
"Hillary is continuity," said Gustavo Neffa, an analyst at Research for Traders. "What we should expect in Argentina is more of the same: the relationship between Obama and Macri is very good and Macri plays for the Clinton campaign," he continued.
While most polls give Hillary Clinton a winner, the numbers are not strict. However, the market believes that the wife of former President Bill Clinton will return to the White House, now as head of state. "Last week we noticed a dangerous approach from Trump to Hillary Clinton, although today it would be moving away again," agreed Neffa, also attentive to the moods of the market. "But we do not rule out any scenario," he continued.