In Rome, Pepe Mujica cries "Help!" as Trump wins election
Wednesday, November 9th 2016 - 17:02 UTC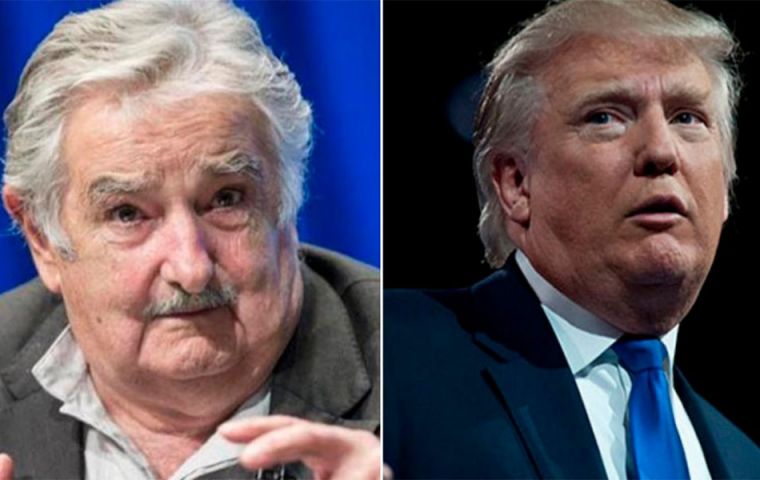 The former Uruguayan President came up with "a word that says it all: Help!" during a radio interview. Tabaré Vázquez to wait for official results to be released.Former Uruguayan President Jose Mujica, in Rome to attend the third World Meeting of Popular Movements made those remarks during a radio appearance. Mujica had expressed his preference for Hillary Clinton.
Asked on what he believes can happen with US-sponsored deals in case of a Donald Trump win, Mujica joked that he did not know "because there is still no direct line to escape to Mars". Mujica also said that the worst thing about Trump was not Trump himself but the people following him.
At the meeting in Italy, Mujica regretted the emergence of a "globalization that is so concentrated in favor of few people, that is stagnating the expectations of vast sectors of the middle class that are seen in uncertainty."
"The Trump voters are the ones who say 'France for the French', 'England for the English', who are part of that 'working-class middle class world of good wages that is sinking into uncertainty and joins those dynamics," he explained.
"It's China's fault or Mexico's or the immigrants or the Syrians ... in each place a literature that lived the world in the 30's," Mujica said.
Meanwhile, Preisdent Tabaré Vázquez has announced he would wait for the official results to be released before undertaking any actions regarding the Republican victory in the United States.