Preconceptions, misconceptions and experts that fail to see reality
Wednesday, November 9th 2016 - 15:42 UTC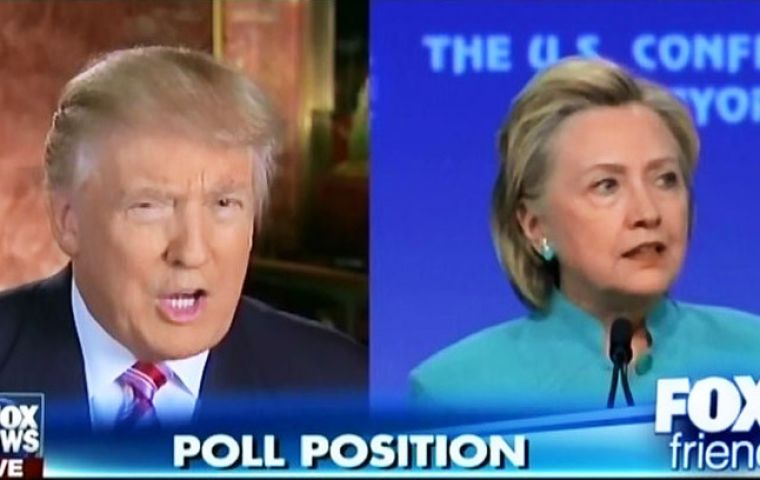 Explaining the not so quite unexplainable. Donald Trump's victory by a convincing margin left all those so called analysts who had foreseen his defeat as inevitable trying to find out how they had so spectacularly misread the world. The role of mass media under fire.
It would seem that for those professionals in the fields of evaluating world events and reporting on them for readers and viewers to become informed have shown serious defficiencies understanding the feelings of regular Americans, of those who want to work hard, keep their family safe and secure for the future, of the "real people," not just the loud voices in wealthy cities or within the multicultural mafia in the liberal heartland of LA or New York. Tuesday's elections were decided in rural outposts and forgotten spots homes across the country.
With incumbent President Barack Obama reaching out to the Castro dictatorship in Cuba and not being strong enough against its Venezuelan clone led by Nicolás Maduro, the Hispanic vote also gave special consideration to those issues that looked to go on unresolved under a new Democrat administration. For that and for other reasons, Donald Trump will be sworn in as the 45th President of the United States on January 20, 2017, after all.
Reuters had given Clinton a 95 per cent chance of winning. Nate Silver downgraded to a 71 per cent chance of success. And the Huffington Post said she was a shoe in at 98 per cent. These are people who are supposed to be reflecting reality back to society. It is time to think again when choosing a source on information, for those in mainstream media have enjoyed the sound of their own echo for so long they stopped listening to people in the street, labelling them as racists, xenophobes, misogynists or whatever it was needed to adjust information and reality in a "comprehensive" way.
The women who campaigned on chromosomes alone because it was time for a woman in the White House regardless of how unlikeable the candidate was or the horrors she committed in her past forgot other women who do not need to be seen as victims did back Trump. A vote against Barack Obama was explained as a vote against his skin, when it was actually his policies that failed him after eight years in office.
According to the "analysts", all women, black Americans and Hispanics were with Clinton. There was no consideration given to the "odd" chance that people vote for policy that will make a difference to their lives, which is why Obama won the vote in his own time and which has also worked for the diametrically opposed candidate.
The forgotten Americans want policies that will make a difference: To reduce immigration and deport those migrants who fail to follow the law of the country; to prevent Islamic extremists from infiltrating the United States in the way Europe has allowed itself to be overrun and Germany has all but fallen; to make alliances with new political powerhouses and stop paying to be the policeman of the world and to make trade deals which return jobs and industry to Middle America.
But most of all, they wanted a chance to have their voices heard. "Such a beautiful and important evening! The forgotten man and woman will never be forgotten again. We will all come together as never before," the president-elect summed up the issue.
When looked at in the face and not from the heights of newsdesks or broadcasting stations, it can be seen in the people's faces that they are sick of being told things they know are not true, tired of hearing that black lives matter when police lives seem to count for nothing, fed up of seeing migrants receive free healthcare when small business owners are fined for failing to pay Obamacare premiums which are off the chart. Fed up with having their Second Amendment rights brought into question or that the Supreme Court should fall to the liberal left.

The losing Establishment will need to take notice that they work for the people. Not the other way around.
Argentina's experience in last year's elections was somewhat similar. While the media announced a Daniel Scioli, people on social media knew Mauricio Macri had reached the presidency.