Republicans retain control of the US House of Representatives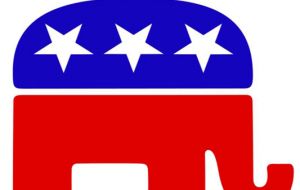 The Republican Party has retained its majority in the US House of Representatives, projections suggest early Wednesday. The TV networks ABC and NBC both projected a Republican majority in the 435-seat chamber, which the party has controlled since 2010.
Meanwhile the Democrats were trying to gain control of the 100-seat Senate, where 34 seats were being contested. They need to gain four seats if Hillary Clinton wins the presidency and five if Donald Trump wins. That is because the vice-president is automatically a member of the Senate.
The Democrats have so far gained just one seat, with Tammy Duckworth, a double amputee Iraq war veteran, taking Mark Kirk's place in Illinois. During a TV debate last month Mr. Kirk mocked Ms Duckworth's Thai heritage, but later apologized.
However in Indiana, seen as another potential win for the Democrats, Republican Todd Young saw off a challenge from former Senator Evan Bayh. North Carolina, also believed to be vulnerable, was held by Republican Richard Burr.
In Florida, former contender for the Republican presidential nomination Marco Rubio won re-election, and in Arizona, Republican Senator John McCain won his sixth term at the age of 80 and suggested it could be his last one.
"I'm not sure how many more I have in me," said the 2008 Republican presidential nominee.
House Speaker Paul Ryan, who had distanced himself from Trump after previously endorsing him, also won re-election to the House of Representatives in Wisconsin.
Dominance in Congress is seen as being crucial to the next president's prospects of turning their policy agenda into law.