Stock markets sink, Mexican peso plunges as Trump takes early lead
Wednesday, November 9th 2016 - 08:32 UTC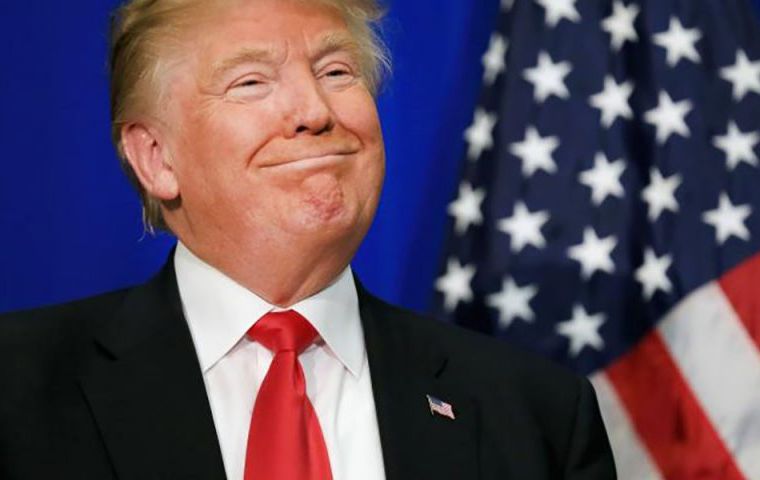 The U.S. dollar sank and stock markets slammed into reverse in wild trade as investors faced the real possibility of a shock win by Republican Donald Trump that could upend the global political order. Major indexes in Asia fall by more than 2%.
Markets fear a Trump victory could cause international economic and trade turmoil, discouraging the Federal Reserve from raising interest rates in December as long expected. Fed fund futures were even starting to toy with the idea of a cut in rates next year.
Meanwhile, the Mexican peso plunged 9.71%. The currency has been seen as Wall Street's favorite proxy for betting on the presidential race during the 2016 election cycle. As Republican nominee Donald Trump's prospects of winning looked better, especially with the tight race in Florida – a state he needs to carry, the peso dropped. The dollar surged over 10 percent in the biggest daily move in two decades. Trump's trade policies are seen as damaging to Mexico's export-heavy economy.
The story was very different against the safe-haven yen, with the dollar shedding 3 percent to 102.02 yen. The euro gained 1.5 percent to $1.1190.
South Korean authorities were thought to have intervened to steady their currency, and dealers were wondering if central banks globally would step in to calm nerves.
U.S. stock futures recoiled more than 4 percent, a loss reminiscent of the carnage that followed the British vote to leave the European Union in June.
Asian stocks followed, with MSCI's broadest index of Asia-Pacific stocks outside Japan down more than 3 percent, while the Nikkei sank nearly 5 percent.
Markets have tended to favor Clinton as a status quo candidate who would be considered a safe pair of hands at home on the world stage.
"In contrast, a Trump victory would trigger massive uncertainty that would likely undermine risk assets at least initially, which in turn could preclude a Fed rate hike this year," warned Michelle Girard, chief U.S. economist at RBS.
Sovereign bonds flew ahead, pushing yields on 10-year U.S. Treasury notes down sharply to 1.77 percent. It had briefly touched a six-month high around 1.8960 percent.
In commodity markets, gold climbed 2.8 percent to $1,312 an ounce as the dollar slid.
Oil turned tail on concerns over the global economic outlook, with U.S. crude shedding $1.34 to $43.63 a barrel, while Brent fell $1.24 to $44.80. [O/R]
It is not news that markets hate uncertainty. "Shock and awe would aptly describe movements of global markets right now," said Matt Simpson, a senior markets analyst at ThinkMarkets.
Stock futures really began tumbling as it became clear that several key battleground states, including Virginia, North Carolina and Florida were too close to call.
U.S. equity futures plunged over 700 points on Tuesday night as the media projected election results in key states like North Carolina, Ohio and Flordia would go to the Republican nominee. As traders rushed to reassess the outcome of the election and its consequences on financial markets, they piled into safe havens like gold and government debt. The precious metal rallied 3.38%, while the yield on the benchmark 10-year U.S. Treasury bond, which moves inversely to its price, declined 0.126 percentage points to 1.73%.