Trump becomes US 45th president with support from white working class and rural voters
Wednesday, November 9th 2016 - 09:29 UTC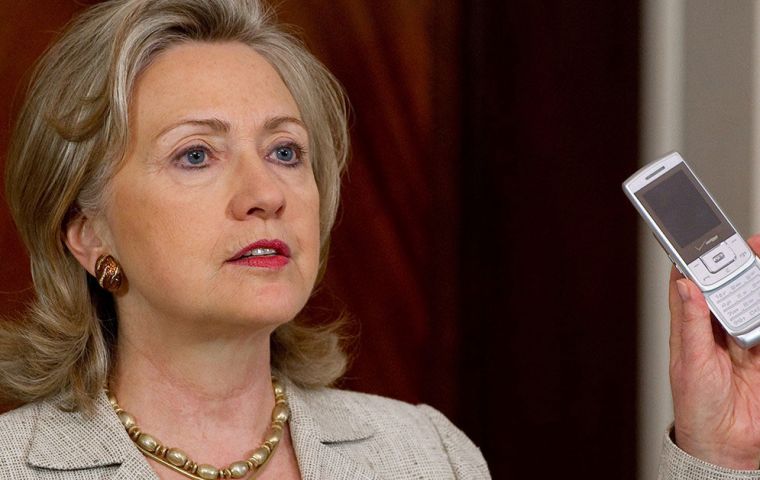 Donald John Trump has been projected as the winner of the presidential election, according to the Associated Press, after election returns showed that Trump had won stunning come-from-behind victories across a swath of contested states. Trump, 70, will be the 45th president of the United States. A real-estate developer and former reality-TV star,
Trump is the first person to win the presidency without having previously held public office or served in the U.S. military. Mike Pence, 57, will be vice president. Pence was a longtime member of the House of Representatives and is now the Republican governor of Indiana.
Trump's victory could produce significant repercussions, both economic and political. Stock markets had risen in recent days, believing that Democratic nominee Hillary Clinton would win. On Tuesday evening, as Trump reeled off a string of unexpected victories across the Midwest, futures market nosedived -- likely anticipating global upheaval as Trump tries to follow through on aggressive campaign promises: to build a wall along the U.S.-Mexico border, to impose tougher trading conditions on China, and to force U.S. manufacturers not to move overseas.
CNN reported that Clinton called Trump to concede at about 1:40 a.m.. Trump clinched his stunning victory minutes earlier, after winning Wisconsin's 10 electoral votes, putting him over the 270 threshold, AP reported.
After a tumultuous campaign, Trump drew closer to defeating Hillary Clinton in the presidential election — as a divided nation appeared to opt for change over President Barack Obama's Democratic legacy.
Earlier Wednesday, Clinton campaign chairman John Podesta said the Democrat had no intentions of conceding, telling supporters to go home for the night. "We can wait a little longer, can't we?" he asked supporters short after 2 a.m. Eastern Time at her Election Night party in New York . "We're still counting votes, and every vote should count."
"She's done an amazing job, and she is not done, yet."
As the results came trickling in, markets in Asia plunged, as investors reacted to the potential for a Trump presidency and what that might mean for trade and the economy. In the U.S., Dow Jones futures were also down as much as 600 points in after-hours trading.
Trump's wins in battleground states Florida, North Carolina and Ohio helped to catapult him closer to victory. Both Clinton and Trump had worked hard for the potential swing states in their final election push — Clinton spending her last rally in North Carolina. Michigan and Wisconsin were part of Clinton's path to victory. Those states all were too close to call, with Trump leading by extremely slim margins.
Trump's strength with white, working-class and rural voters came out in full force on election night, helping to take key votes in those battleground states.
States that went blue for Obama didn't quite do the same this time around — meaning some voters who voted for Obama last election opted to vote for Trump.
At the same time Clinton had 215 electoral votes late Tuesday, with wins in Connecticut, the District of Columbia, Delaware, Illinois, Hawaii, Washington, Nevada, Oregon, California, Colorado, Massachusetts, New Mexico, Virginia, Maryland, New Jersey, New York, Rhode Island and Vermont. In deep blue Illinois, Clinton won handily, 55% to 39%, with 96% of precincts reporting.
Hispanic voters backed Clinton over Trump 86% to 10%, according to a Latino Decisions poll. Exit polls showed 43 percent of independents chose Clinton.
Exit polls showed women nationwide supported Clinton by double digits, with men more likely to back Trump. More than half of white voters backed Trump.
Trump as a potential victor wasn't exactly predicted, as poll after poll had Clinton in the lead, even in the waning days of the election. Clinton as the winner would make her the first woman president in U.S. history. The Illinois native broke barriers as the first woman to be nominated by a major political party as their presidential pick.
Trump famously said in the last presidential debate that he wouldn't commit to accepting the results of the election: "I will keep you in suspense," he said. And for the past month, he's called the system "rigged." He's long said the media is working against him.
Before announcing his campaign, Trump was known to Americans as a billionaire businessman, a television star and an author. He spoke to many in the country who weren't satisfied with President Obama's presidency.
Trump gained supporters by connecting to working class Americans, some who felt left out in the economy. He spoke of support for a border wall between the U.S. and Mexico and cited immigration as a cause of many problems plaguing the country.
"I am your voice," Trump told his supporters as he accepted the presidential nomination at the Republican National Convention in July. There he painted himself as the plain-speaking, politically incorrect man who could turn around a bleak country.
"It is finally time for a straightforward assessment of the state of our nation," Trump said.
Throughout the campaign, Trump cast Clinton as a dangerous candidate who is unfit to lead. Those are words Clinton in turn said about Trump.