Spain and UK agree a more constructive approach on Gibraltar dispute at UN
Friday, November 11th 2016 - 11:03 UTC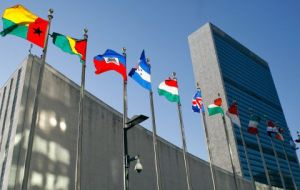 The UN General Assembly's Fourth Committee adopted this week a consensus decision setting out the conflicting positions of the British and Spanish governments on Gibraltar, and including – for the first time – Britain's double-lock commitment on sovereignty. The decision was agreed by Britain and Spain despite the starkly contrasting views set out at the last session of the Fourth Committee in October, as reported by the Gibraltar Chronicle.
It was agreed even though Spain's former Foreign Minister, José Manuel García-Margallo, had suggested there would be no consensus at the UN this year. In fact, agreement had proved elusive and the Chronicle understands that the final text was only submitted on the cusp of the deadline – and after the announcement that García-Margallo had been dropped from the Spanish Government.
Much of the text this year reflects the usual decision adopted annually at the UN, including a line urging the UK and Spain to reach "a definitive solution on the question of Gibraltar" in accordance with UN resolutions.
But as in previous years, it also acknowledges recent developments. The decision notes, for example, that Spain has tabled a proposal for co-sovereignty and that the Spanish Government continues to call for bilateral sovereignty talks under the Brussels process.
Conversely, the decision also notes the UK's commitment that it will "…never to enter into arrangements under which the people of Gibraltar would pass under the sovereignty of another State against their freely and democratically expressed wishes, nor enter into a process of sovereignty negotiations with which Gibraltar is not content…".
The double-lock sovereignty commitment has never been included in a consensus decision before.
The text also notes the UK's desire to return to the trilateral process and Spain's position that the trilateral forum "…does not exist any longer and should be replaced with a new mechanism for local cooperation in which the people of the Campo de Gibraltar and Gibraltar are represented."
Finally, the consensus decision "encourages UK and Spain to engage in a constructive and responsive manner, with all relevant and appropriate parties, in order to find common solutions and make progress on issues of mutual benefit."
On Tuesday night the Gibraltar Government acknowledged the developments in New York. "Like every year the consensus decision agreed between the UK and Spain recites the conflicting positions of both parties," a spokesman for No 6 Convent Place told the Chronicle. "It represents no progress whatsoever for Spain's stale and stillborn claim to our sovereignty".