Trump's victory seen from Argentina as a global tendency in Western economies
Friday, November 11th 2016 - 07:04 UTC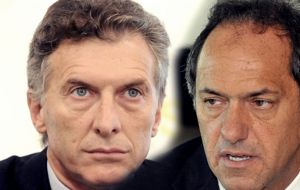 Under the heading of "Trump and Argentina", political analyst Rosendo Fraga outlines what he believes are the reasons for the US tycoon victory in the presidential election, which he links to similar conditions in UK and the Brexit, and possible surprises next year both in France and Germany, the four leading Western economies.
Fraga begins by saying that Trump's triumph is a global tendency, such was the case with the UK and Brexit, and with similar tendencies in France and Germany with the following factors: an upsurge of nationalism as a value; a protectionism claim in the economic field; rejection of immigration, socially and an overall "anti-political" system feeling, that is against traditional politics.
And in this context, Trump is the US version of this growing tendency in the West.
Supporters of globalization argue, and with reason, that it has helped to bring down poverty in such emerging powers as China and India.
Opponents argue, and with reason that it has increased inequality, but this is in the Western developed economies. Half of those who voted for Trump did it out of economic frustration and of social fury.
In a more domestic approach Fraga criticizes the Argentine government for having openly supported Hillary Clinton, which he describes as a "conceptual error". He adds presidents and foreign ministers, as a matter of principle, should not be involved in the electoral processes of other countries.
Last year, current Argentine president Mauricio Macri had to live with the open support for his opponent, Daniel Scioli, from the presidents of Brazil, Dilma Rousseff; Tabare Vazquez, Uruguay; Michelle Bachelet, Chile; Evo Morales, Bolivia; Rafeal Correa and Venezuela's Nicolas Maduro, and even open campaigning from ex Uruguayan president Jose Mujica, all of which received him as if he had been elected and anticipated his victory.
But this did not happen and it was a major political error since the bets were on the losing Argentine presidential candidate.
In the case of Trump his rancor could have a negative influence but it is also true that Argentina's Macri is the only South American president in office who Trump knows since they were involved in business dealings during the eighties, and this could help proximity.
But for South America, concludes Fraga the problem emerging from Trump's victory is uncertainty regarding interest rates for countries highly indebted and the increase of protectionism for those exporters of commodities, and their price.
More specifically for Argentina it is hard to expect from Trump, the close relation Macri managed with Obama during his first year in office, particularly when the US president during his visit to Argentina said that "Macri was an example for the region".