Congress opens Brazil's huge "pre-salt" oil fields to the private sector
Saturday, November 12th 2016 - 21:27 UTC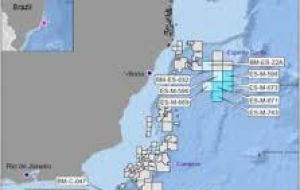 Petrobras will begin selling off huge "pre-salt" oil fields to raise cash for the desperate Brazilian national oil company, according to new legislation passed by Congress. Politicians in the lower house had fought against the bill, but lawmakers succeeded in pushing the bill through during a late-night session, and the vote stood at 251-22 by the end of the night.
President Michel Temer, who took power when Dilma Rousseff left the office in August after facing impeachment on corruption charges - will either adopt or reject the bill once a technical analysis of its contents has been completed.
Experts have predicted that huge amounts of oil could be lying under the pre-salt fields, however the high costs of the equipment and human capital necessary to get extraction started have led Brasilia's lawmakers to consider offering foreign firms a go at the sites.
Last week, Brazil's Oil and Gas Secretary announced that the country would continue to increase output over the next few years, despite pushes by the Organization of Petroleum Exporting Countries (OPEC) for all of the world's major oil producers to scale back output.
In September, over 11,700 Petrobras employees signed up to get fired through the firm's voluntary dismissal program. The public company set up the program to reduce debt and reduce operational costs by US$10 billion in the coming years as global oil prices stay low and cut into government revenues.
Petrobras later said that it still plans to sell US$15.1 billion assets by the end of this year, and generate another US$19.5 billion from asset sales and partnerships in the next two years. Total asset sales for the next 10 years are planned at US$40 billion.