More flights to Cuba and less around Trump Tower in new US skies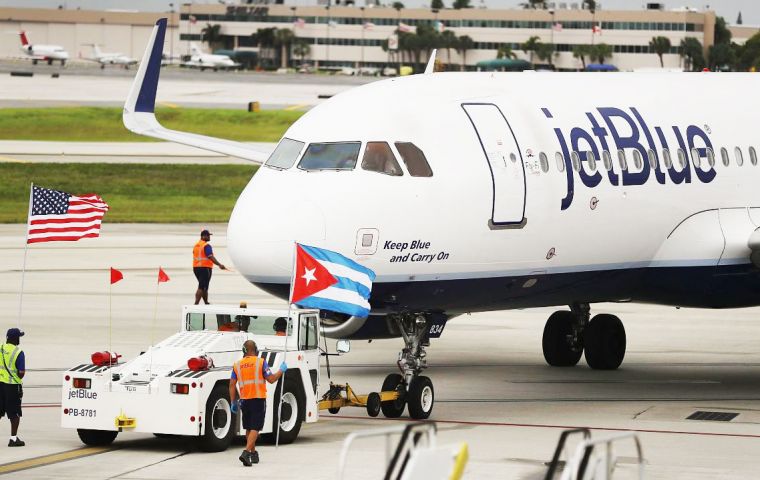 Delta Air Lines will operate three daily flights to Havana, one from Miami, one from New York and one from Atlanta, it was announced Friday - No fly zone (sort of) around Trump Tower in NYC
The carrier plans to use larger aircraft on the routes during the summer tourism season, Delta's director for Central America and the Caribbean, Jose Zapata, told Cuban media. The new services are a part of the normalization process launched in December 2014, which led to the signing of an agreement in February to restore regular passenger air service between the two countries after 55 years.
Budget carrier JetBlue was the first airline to pick up the glove on August 31, with a flight from Fort Lauderdale to the central Cuban city of Santa Clara. It added service from Fort Lauderdale to Holguin and Camagüey and plans to connect Havana with Fort Lauderdale, Orlando and New York.
American Airlines began flights to Holguin, Varadero, Santa Clara Cienfuegos and Camagüey in September, with plans to start offering service to Havana from Boston, Miami, New York, Orlando, Philadelphia, Tampa and Washington.
While the economic embargo imposed in 1962 prevents U.S. citizens from traveling to Cuba purely for tourism, President Barack Obama's liberalization measures include the creation of 12 categories of authorized visits to the Communist-ruled island.
On the domestic front, the Federal Aviation Authority (FAA) of the United States has imposed restrictions to visual flying around the Trump Tower in Manhattan until January 21. One of the first aeronautical consequences of the election last November 8 of Donald Trump as president of the United States is the establishment of a zone of temporary flight restriction (TFR) in the form of what is commonly referred to as NOTAM (notice to airmen) in aviation circles, around the airspace of the emblematic Trump Tower that the American tycoon has on Manhattan's 5th Avenue in New York.
The overflight restriction, which appears on the website of the Federal Aviation Authority (FAA), began on the 10th of November and will be in force until January 21, the first day after his presidential inauguration.
At first the TFR had a two-nautical-mile radius from the skyscraper, but in order to keep the visual flight corridor on the Hudson River active, it had to be reshaped to one kilometer above the river. The Hudson River flyover is a popular tourist route. In fact, the TFR allows the take-off and landing operations of helicopters and seaplanes, as well as air ambulance, police, emergency services and schduled passenger tours.