US Secretary of State Kerry approaches climate change in Antarctica
Saturday, November 12th 2016 - 21:19 UTC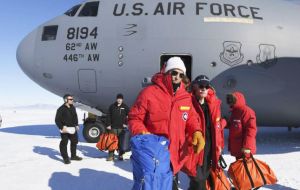 U.S. Secretary of State John Kerry traveled to Antarctica Friday, in preparation for an international climate-change conference to be held in Marrakesh next week, at a time the world foresees different environmental policies under Trump.
Kerry flew aboard a U.S. Air Force C17 Globemaster from Christchurch, New Zealand, to McMurdo Station, the base of U.S. operations in Antarctica and from there he went to a small U.S. research facility near the South Pole, where he exchanged views with the experts there before returning to McMurdo for the night and then on back to New Zealand on Saturday for a meeting with Prime Minister John Key.
The Secretary Of State made no public statements while in Antarctica, but on Thursday in Christchurch he congratulated U.S. President-elect Donald Trump for winning what Kerry called a "momentous election" earlier this week.
Major changes appear to be on the radar following Trump's victory. His views regarding environmental issues can be outlined as follows:
Trump tweeted in 2012 that "The concept of global warming was created by and for the Chinese in order to make US manufacturing non-competitive" and is known for wanting to dismantle the Paris Agreement that sets targets to reverse the worst effects of global warming, which nearly 200 countries agreed to last December.
The now President-elect has repeatedly expressed that the US shouldn't waste "financial resources" on climate change and should instead use them to ensure the world has clean water, eliminate diseases like malaria, increase food production, or develop alternative energy sources. "There is still much that needs to be investigated in the field of 'climate change,'" he said. "We must decide on how best to proceed so that we can make lives better, safer and more prosperous."
Clean water may be the "most important issue we face as a nation for the next generation," and it will be a "top priority" for his administration, Trump has been wuoted as saying. "We must make the investment in our fresh water infrastructure to ensure access to affordable fresh water solutions for everyone," he said.
"We must explore all options to include making desalinization more affordable and working to build the distribution infrastructure to bring this scarce resource to where it is needed for our citizens and those who produce the food of the world."