Petrobras cleans balance sheet and posts unexpected third quarter loss
Monday, November 14th 2016 - 07:54 UTC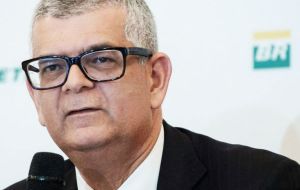 Brazilian state-controlled oil company Petrobras posted an unexpected third-quarter loss after drastically reducing the value of oil fields and other assets amid a severe downsizing and weak oil prices. Petrobras lost a net 16.458 billion reais (US$4.9 billion) last quarter, five times more than a year earlier. Despite that, operational and cash flow trends improved and, without an impairment, profit could have totaled 600 million Reais, Chief Financial Officer Ivan Monteiro said.
The numbers came as Chief Executive Officer Pedro Parente cleaned up a balance sheet with unrealistically priced investments, whose losses were magnified by a stronger currency and a rising cost of capital. The company shaved the value of assets by 15.292 billion Reais and of investments by 417 million Reais last quarter.
"The message we want to convey is that these impairments are non-recurring, and that we don't expect them to happen, not at least in this magnitude, in the coming future," Monteiro said at an event to discuss the results in Rio de Janeiro.
Petrobras, the world's most indebted major oil firm, faces several hurdles including the lowest oil prices in a decade, a corruption scandal highlighting governance flaws and losses incurred over many years because of government-mandated fuel subsidies and money-losing investments.
Parente's steps to grow output in some offshore fields, cut debt and keep expenses in check helped mitigate the company's loss. Asset sales and a sharp reduction in capital spending commitments also allowed Petrobras to cut gross debt by about 19% since the end of last year to 398.2 billion reais.
According to Monteiro, progress in a voluntary dismissal plan for workers, as well as a faster pace of divestitures, could help recoup part of the ground lost with the impairment. At this point, it is uncertain whether Petrobras will lose money for a second straight year or if dividends will be paid, he said.
Net revenue fell 1% to 70.443 billion reais on a quarterly basis, missing consensus estimates of 74.520 billion reais. Capital spending fell 9%, in line with the 8% that analysts estimated for the quarter. Gross profit rose above expectations, while operational profit suffered as a consequence of the impairments.
Free cash flow, the money left for holders of bonds and shares after all operating and financial expenses are paid, posted positive readings for the sixth straight quarter. Free cash flow generation is key for Petrobras's goal to reduce debt. Monteiro reiterated that Petrobras is committed to meeting a US$15.1 billion two-year goal for asset sales by the end of this year, even if only 65% of it has been completed so far.