Trump promises Argentina, a great country, "the closest relation in history"
Tuesday, November 15th 2016 - 09:02 UTC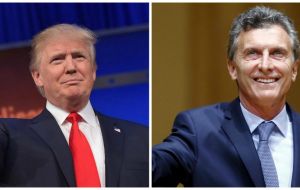 "Argentina is a great country" and Argentina and the US will have "the closest relation in history", according to the official version from the administration of president Mauricio Macri who on Monday was on the phone with president elect Donald Trump to congratulate him on his presidential victory.
Accordingly, Macri told Trump he was expecting to see him in Argentina in 2018, when the country organizes the G20 summit in Buenos Aires, to which the US incoming president replied he would like to see him at the White House sometime before that year.
During the fifteen-minute talk both recalled their personal relation, (years ago) and agreed to work in a joint agenda to boost growth of the two countries.
"Argentina is a great country and we will have the closest relation between our countries in history", Trump was quoted, according to the official Casa Rosada release.
Later in the day foreign minister Susana Malcorra said that the outstanding part of the dialogue between both presidents, was that "the personal link was confirmed and reestablished, which has many years", and in effect "Trump was very appreciative in remembering old times".
"There's no possible task a ministry or diplomacy can advance if there is no chemistry between persons and the conversation confirmed that the chemistry exists", said Malcorra.
The minister said it was a very important starting point since it was Trump who told Macri that he is convinced that "we have to work in a joint agenda and he understands that Argentina has opened to the world, and the US is a very important partner in that opening".
"President Trump is convinced that it is essential we work together and both confirmed that we should hold a meeting of our teams the sooner the better. We will work on that, and he also said he expected to see him soon at the White House, that is a very good signal".
Malcorra underlined the significance that the president elect had included Macri in his agenda of contacts. "There are not many calls from world leaders during these transitions", and it is "essential" for Argentina to have been included in that agenda less than a week after winning the election.
Further on Malcorra pointed out that "president Macri told me there was not a single mention during the conversation to the issue of the (Argentine) support for Hillary. The world is accommodating to Trump's victory and this is positive because relations among countries must be done through the governments their peoples elect"
As to the future Trump cabinet, Malcorra admitted that "it is obvious there are going to be great changes and this will delay things, but it is our job to ensure that as far as Argentina is concerned that delay is the briefest possible".
But Malcorra also underlined it was time to des-dramatize things, "on our side there is much work ahead, particularly at the ministry (of foreign affairs), time is gold, we need to continue with the agenda that we expect will generate investments, improve the exchange and it is done without interruptions"