EU farmers on alert at the prospect of increased imports of beef from Mercosur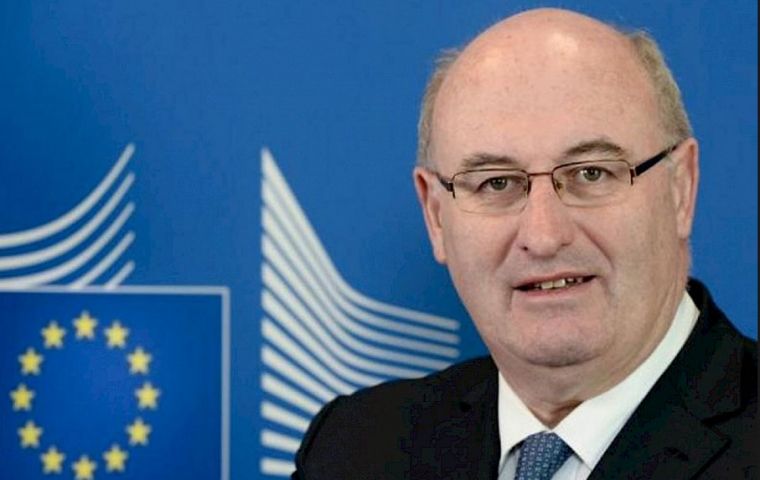 Cheaper imports from Mercosur and the recovering dairy market will push down EU beef production and prices, states in a long-awaited impact study released by the European Union. Dairy and pigmeat exports will see steady gains, says the report, which looked at the cost of 12 pending trade deals on EU agri-food markets.
European Union Agriculture commissioner Phil Hogan said the report will strengthen the EU's hand in trade talks, especially with Mercosur countries Brazil, Argentina, Uruguay and Paraguay.
"We expect that countries that we are trading with now, or negotiating with, will take into account this particular study in moderating their expectations of the EU in terms of what we can offer," said Mr Hogan.
"I think that this document and this study certainly gives us a lot more ammunition in terms of any negotiations that we would have with countries like Mercosur."
Beef was taken off the menu in the Mercosur talks earlier this year, but not before a draft EU quota offer of 78,000 tonnes of beef was made public. It is higher than the 45,000-tonne quota agreed with Canada, which is to be phased in over several years.
Irish Agriculture Minister Michael Creed said the report "vindicates" Dulbin's position. "The message coming from Ireland is that the beef sector is no longer prepared to be the sweetener for trade deals, particularly for Mercosur" he said.
France, Germany, and the UK spoke out about the negative effects of trade deals, particularly with Mercosur, on Europe's farmers.
"It would be irrational, in my view, of the commission to proceed with trade deals, particularly in the area of beef quota access to the European market, given what's contained in this report," said Mr Creed.
He said it was "illogical" to allow in beef imports from Mercosur "that come with a heavier carbon footprint", just after signing the UN's Paris climate accord.
The report says beef imports could rise by 146,000 to 356,000 tonnes between now and 2025, causing a direct fall in prices of between 8% and 16%. Exports would increase by much less.
There is good news for dairy, however, which could see price rises of between 9% and 16% as a result of extra demand. "The red meat sector is probably the most affected by further trade liberalisation following the set of bilateral trade agreements," says the report.