Trump receives Japan's Abe in New York expecting to reassure Asian allies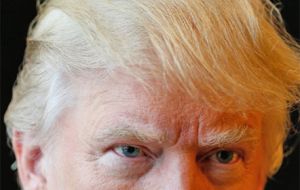 Donald Trump is expected to use his first meeting with a foreign leader as U.S. president-elect this week to try to reassure Japanese Prime Minister Shinzo Abe and other Asian allies rattled by his campaign rhetoric, advisers to Trump said. Abe, a political blue blood and veteran lawmaker, and Trump, a brash outsider with no diplomatic or government experience, have differences on policy issues such as free trade.
But the two may find they have more in common when they meet in New York on Thursday, including pledges to restore their countries' global stature and a desire to counter a rising China while improving relations with Russia.
"Prime Minister Abe and Mr. Trump will have good chemistry," said Takashi Kawakami, a professor at Tokyo's Takushoku University. "Both tend to decide and act based on intuition. And both are pragmatists who put their countries' interests first."
An adviser to Trump said the president-elect would reaffirm his commitment to the U.S-Japan alliance and the region, despite campaign rhetoric that raised questions about the future of what has been the bedrock of Japanese defence since World War Two.
Abe wants to build a relationship of trust while taking the measure of the real-estate magnate, whom few in Japan thought would become president.
"The first and by far, top priority is to establish a personal relationship rather than debate specific policy areas," said a person familiar with Japan's preparations for the meeting.
Trump's campaign comments on the possibility of Japan acquiring nuclear arms and demands allies pay more for the upkeep of U.S. forces on their soil have fanned worries.
His election has also dashed hopes for U.S. approval of a 12-nation trade pact, the Trans-Pacific Partnership (TPP), a linchpin of Washington's "pivot" to Asia and a pillar of Abe's economic reforms.
A Trump adviser said he expected the meeting to "set the tone" for Trump's relations with Japan and the region. Some diplomats say, however, that until Trump makes key appointments, it will be hard to assess his policies on issues including China's maritime aggressiveness and North Korea's nuclear threat.
"I think the message ... is going to be extremely reassuring," the advisor said. "I expect he is going to reaffirm his commitments to the alliance and the American commitment to being in the Pacific long-term."
Japan agreed last December to boost spending for U.S. forces in Japan by 1.4% for the next five years, at an average of 189.3 billion yen (US$1.74 billion) per year. Defence Minister Tomomi Inada has said Tokyo was paying enough.
Abe has boosted Japan's overall defence spending since taking office in 2012 while stretching the limits of its pacifist post-war constitution to allow the military to take a bigger global role. Defence spending still stands at just over 1% of GDP against over 3% in the United States.