Argentina unable to lower crude imports depite Minister Aranguren's preferences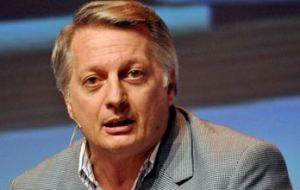 Despite Energy Minister Juan José Aranguren's plans, Argentina will end up importing in 2016 almost as much crude as in 2015. Freighters from Nigeria and Angola reported to be on their way with some 3 million barrels.
Energy Minister Juan José Aranguren said in May during an event organized in Houston, United States, by the Argentine Petroleum And Gas Institute (IAPG) that "local oil should be favored in order to avoid a reduction of jobs and lower tax revenues," but there seems to be a gap between desire and reality, since newsagency reports of freighters sailing in from Nigeria and Angola would set the total imports for 2016 at the same level as they were the previous year.
Last year, Argentina imported 6 million barrels of crude, mainly from Africa. With the two ships sailing in now, the country will have imported a total of 5.8 million barrels in 2016.
The local oil production remained unchanged at around 530 thousand barrels per day, so imports could not be reduced either and this year US oil was imported for the first time in decades. About 650,000 barrels of US crude arrived in September, making Argentina became the latest Latin American country to buy US oil, after exports were authorized at the end of 2015. Colombia, Nicaragua, Panama, Peru, and the Dominican Republic had already been included in the list of clients.