Soros believed to be behind counter-revolutions where the other party wins elections
Thursday, November 17th 2016 - 09:54 UTC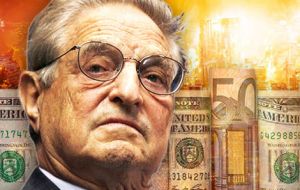 Anti-Trump protests so strong and well coordinated make spontaneity unlikely to the reasoning observer who makes out that "someone is stirring the pot because America has never traditionally had a problem with accepting the outcome of an election," as one analyst put it.
One protester for hire in Fountain Hills, Arizona, told the media he had been "given $3,500" after he had answered a Craigslist ad about a group needing actors for a political event" for which he auditioned and "got the part." Pictures of buses to drive protesters to where their services were needed would seem to reveal that the man in the street is unable to rent that many vehicles spontaneously.
At that point, analysts recall that "we now have Soros behind many 'color' revolutions in other countries and financing in effect a semi-color revolution in US," making a reference to the Orange Revolution in Ukraine, among others. "I don't know if it categorizes as treason. He certainly operates from the shadows. His only legitimacy is his wallet. His only concern is to create the kind of democracy he can prop up and gain an interest from. That's the kind of person who is behind this continuing protest against a valid, legitimate, free election."
Billionaire globalist financier George Soros' MoveOn.org has been revealed to be a driving force behind the organizing of nationwide protests against the election of Donald Trump — exposing the protests to largely be an organized, top-down operation — and not an organic movement of concerned Americans taking to the streets as reported by the mainstream media.
"The gatherings – organized by MoveOn.org and allies – will affirm a continued rejection of Donald Trump's bigotry, xenophobia, Islamophobia, and misogyny and demonstrate our resolve to fight together for the America we still believe is possible," it was announced. Within two hours of the call-to-action, MoveOn members had created more than 200 gatherings nationwide, with the number continuing to grow during the week after the election.
Reports from various protest locations that reveal a substantially coordinated effort, and not the organic grassroots showing by concerned Americans, as the mainstream media is reporting, leading to believe that in fact they are being strategically orchestrated. In fact, President-elect Trump has not made a single policy decision yet and anything said during the campaign was most likely simple election campaign rhetoric.
"It's an election where they had all of the media, power and money and yet they've lost to Trump," an analyst explained. "It's a toss-up now between the Clinton-Soros view that the only democracy allowed is a one party democracy that agrees with what they say and if that doesn't happen they are ready to do a counter-revolution to destroy that democracy and that democratic vote."
Soros-affiliated organizations across the world are deeply connected to various color revolutions, the Arab Spring, and a number of other political uprisings across the globe. According to a report, the totality of what is revealed in three hacked documents show that Soros is effectively the puppet-master pulling most of the strings in Kiev. Soros Foundation's Ukraine branch, International Renaissance Foundation (IRF) has been involved in Ukraine since 1989. His IRF doled out more than $100 million to Ukrainian NGOs two years before the fall of the Soviet Union, creating the preconditions for Ukraine's independence from Russia in 1991. Soros also admitted to financing the 2013-2014 Maidan Square protests that brought the current government into power.
Soros' foundations were also deeply involved in the 2004 Orange Revolution that brought the corrupt but pro-NATO Viktor Yushchenko into power with his American wife who had been in the US State Department. In 2004 just weeks after Soros' International Renaissance Foundation had succeeded in getting Viktor Yushchenko as President of Ukraine. Anyone familiar with the history of the Soros Open Society Foundations in Eastern Europe and around the world since the late 1980's, will know that his supposedly philanthropic "democracy-building" projects in Poland, Russia, or Ukraine in the 1990's allowed Soros the businessman to literally plunder the former communist countries' wealth.
During the 2016 presidential cycle, Soros committed $25 million dollars to the 2016 campaign of Hillary Clinton. Per the standard Clinton operating procedure, this was indicative of the symbiotic relationship of favors between the billionaire and his array of political puppets across the globe.
As a testament to the power wielded by Soros, contained within WikiLeaks' recent release of hacked DNC emails, is a message from billionaire globalist financier George Soros to Hillary Clinton while she was U.S. Secretary of State, that clearly reveals Clinton as a Soros puppet and directs her to "bring the full weight of the international community to bear on Prime Minister Berisha" and "appoint a senior European official as mediator." Revealing the influence he wields within the corridors of power, Soros then provides Secretary of State Clinton with three names from which to choose. Unsurprisingly, Clinton acquiesced and chose one of the officials recommended by Soros — Miroslav Lajcak.
It is neither complicated nor expensive to hire protesters. "They only paid Latinos $500, Muslims $600 and African Americans $750," said the Arizona actor. "I don't think they were looking for any Asians," he added. He also revealed that "women and children were paid half of what the men got and illegals received $300 across the board."