Buenos Aires admits poor cruise season because of past mistakes
Saturday, November 19th 2016 - 18:39 UTC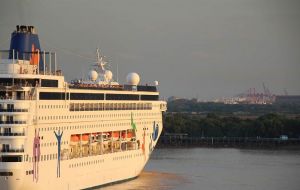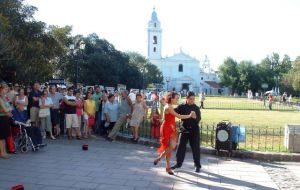 Buenos Aires cruise season has taken off but it will be far from its peak in 2012/13 when over half a million visitors reached the Argentine capital. This season will only see 81 calls with 323.000 visitors of which 70% foreigners, according to local port authorities.
The first to call was the Hebridean Sky, a small cruise with 100 passengers and 80 crew members. From Buenos Aires it headed for Ushuaia and then across to the Falklands and South Georgia. The last scheduled call this season on 9 April 2017 is the Norwegian Sun. But some large cruises are also expected among which MSC Orchestra and Music; Celebrity Infinity; Costa Luminosa and Queen Victoria.
"We're paying the consequences of bad management. It's a highly competitive market and in our Southern hemisphere latitude we have formidable and well developed destinations such as Oceania and South Africa. Cruise companies organize with up to four years anticipation, but here in Buenos Aires they could only schedule with two years at the most. This scares any global corporation", said Gonzalo Mortola, from the Buenos Aires port authority.
However the Argentine migration office is making efforts with the purpose of reversing past mistakes. In 2015 with no previous warning it increased the landing fee per passenger from 10 to 14 dollars, and it applied for each landing in every Argentine port. "This change of the rules was not precisely welcomed by the cruise companies, rather the opposite"
"Now the landing fee is US$ 14 but for the itinerary not each port".
According to Argentine cruise industry sources, ports' logistics is vital, and thus those companies operating in Buenos Aires can be divided in two. Costa and MSC which bring their vessels to the south when the European season is over and complete some 40 tours along the South Atlantic, Argentina, Uruguay and Brazil. And then there are the others which simply call once or twice in Argentina and sail on.
Although 2016 has been overall a bad year for tourism, "for our company it was positive because we managed the same level of sales that in 2015, that is, we didn't increase but we did not see a drop in sales" revealed Maximiliano Gonzalez from Costa Cruises. In previous season Costa had up to seven vessels operating from Buenos Aires, but now for this season is down to three, Costa Pacifica, Costa Fascinosa and Costa Luminosa.
However Buenos Aires port authorities admit that the real changes will begin to be seen in the 2018 season, with long term scheduling possible, and improvements in the local terminal, with further facilities and a daily managing capacity of 12.000 visitors.