Fuel shortages feared in Uruguay due to lorry drivers' strike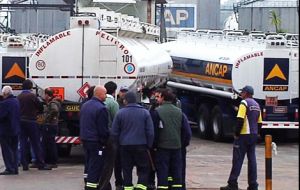 The lorry drivers' strike already under way in Uruguay, which broke up as a conflict between freight carriers and the agriculture sectors, may have its impact on the distribution of car petrol, warns Mauro Borzzaconi of the trucking association.
"If there is no agreement before next Tuesday, this strike could be extended to other branches of freight transport, including the distribution of fuels," Borzzaconi said.
Petrol stations shall not be operational next Monday, Nov. 21, and Tuesday, Nov. 22, and the situation could be aggravated with the measures taken up by gasoline distributors, causing nationwide shortage.
"It can get complicated from Tuesday on because there will be surely other branches of transport affected," Borzzaconi said. "And it can get a lot worse by Wednesday if no solution is found quickly; the longer it takes, the worse it will be," he warned.
Car owners were already lining up to fill up their tanks late into Friday's evening as a precaution. Lack of fuel is expected to affect interurban passenger transport as well.
"We expect to fulfill our services as we do every day," Anetra manager Hugo Laruschi explained. "The companies are going to try their utmost efforts to comply with the hourly mesh in all its terms and conditions," he added. "But we would like to warn users to take precautions and inquire whether their particular service will be available at the usual time because there may be difficulties."