Earthquake in San Juan rattles Argentina, Chile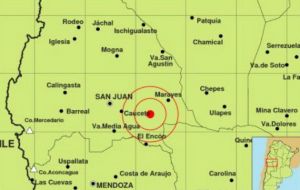 A strong earthquake with its epicenter located 19 km southwest of the city of San Juan reaching 6.5 degrees on the Richter scale took place Sunday afternoon. No casualties were reported but it was sensed as far s in Buenos Aires
The Argentine Institute of Seismic Prevention (Inpres) reported an earthquake reaching 6.5 in the Richer scale took place Sunday at 5.57pm 19 km southwest of the city of San Juan. Inpres had originally read out a measurement of 5.6 degrees which was corrected immediately afterwards. There were four aftershocks in 20 minutes.
Inpres added that the earthly movement had a depth of 130 km. The subsequent movements were 3.7 degrees (only 10 km depth), 3 (95 km depth) and 4 (140 km depth), on the Richter scale, at the 18.04; 18.08 and 18.17 hours respectively. Other sequels were said to have occurred later into the night and are still under Inpress scrutiny.
Although no casualties were reported, authorities warned that there were some rocky landslides by the mountain roads and called for precautions from drivers. Inpres Director Alejandro Giuliano pointed out that there were no reports of damages, but admitted that the possibility could "not be ruled out" because "precarious constructions near the epicenter" may have been affected.
There were reports that the tremor could also be sensed in Rosario and Buenos Aires as well as in other parts of the country like Mendoza, San Luis and Córdoba. Chile's National Seismological Center said it was also to be felt in Atacama, Santiago and Valparaíso.